Non-Surgical (Liquid) Facelift in New York
You don't have to go "under the knife" to give your face that lift you've been looking for. Thanks to the ever-growing variety of facial fillers that are designed to target specific cosmetic concerns such as wrinkles, sagging skin, hollows, and volume loss, a non-surgical facelift can give you the skin rejuvenating results you desire. Known as the Miller Lift, this liquid facelift procedure can give you instant, natural-looking results without a single incision.
The Miller Lift is a minimally invasive, non-surgical facelift option that uses a combination of dermal fillers to soften and fill out lines and wrinkles. Botox Cosmetic® is also a regularly used liquid facelift injection that provides a lifted, firmer appearance for a more youthful-looking skin complexion.
Read More
What can a non-surgical (liquid) facelift do for me?
Before performing the procedure, Dr. Miller collaborates with each patient through his proprietary NatraLook experience. This process allows you to create a custom treatment plan with Dr. Miller to ensure you work toward achieving your desired results. During your consultation, you can discuss your greatest areas of concern and how a liquid facelift without surgery may benefit you, such as:
Giving you a rested, rejuvenated appearance
Reducing lines, wrinkles, folds, and creases to reveal a youthful complexion
Providing a gentle lift to your facial features for tighter-looking skin
Defining your cheeks and jawline to create a precise outline
Augmenting your chin and improving your side profile
Eliminating dark under-eye circles for a healthy glow
Restoring the fullness of your face and enhancing its contours
What areas can be treated by a non-surgical (liquid) facelift?
Since multiple treatments may be used during a non-surgical facelift, many concerns can be treated in a single session. Common procedures (and their benefits) include:
Dermal fillers are used to reduce the appearance of wrinkles and address cosmetic concerns such as furrows around the mouth, volume loss in the midface, and jowl formation.
Botox injections relax the muscles below the skin that pull on the skin during regular facial expressions to reduce wrinkles around the forehead and eyes.
Sculptra injections can improve collagen depletion that leads to volume loss around the midface and along the jawline. This poly-l-lactic acid formula encourages your body to produce the collagen needed to gradually inflate hollows and smooth wrinkled skin over time.
Fat injections may also be used to transplant cleansed fat from another part of your body to your face to add volume to the areas that need it most.
Liquid (non-surgical) facelift before and after
Reviewing non-surgical facelift before and after photos can be an excellent source of inspiration. Take a look at all of the striking results Dr. Miller has helped so many of his patients achieve with the Miller Lift.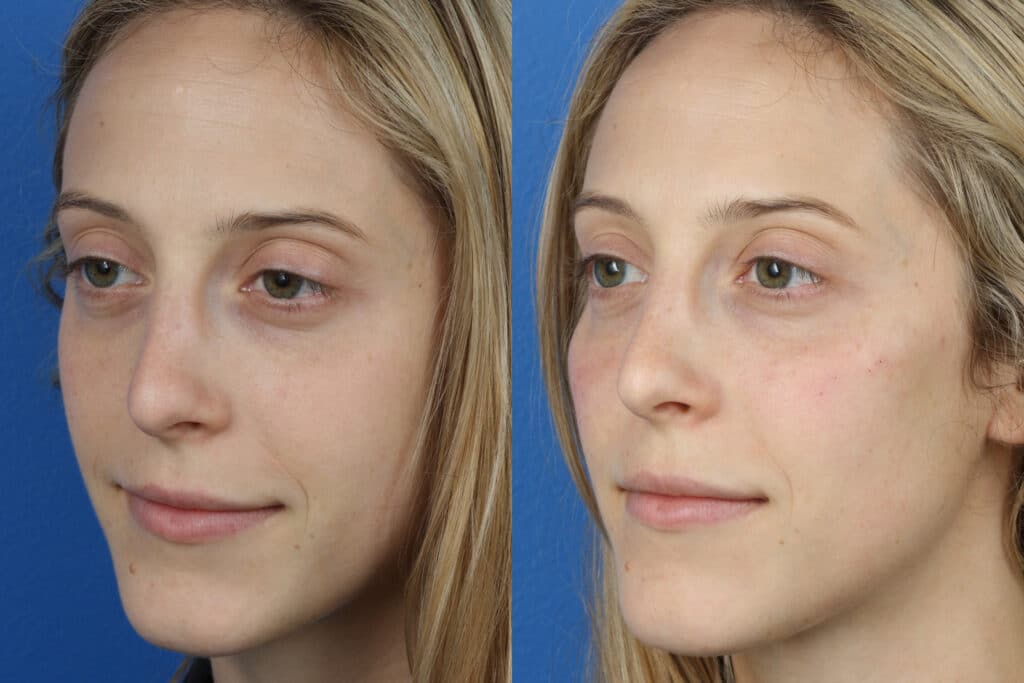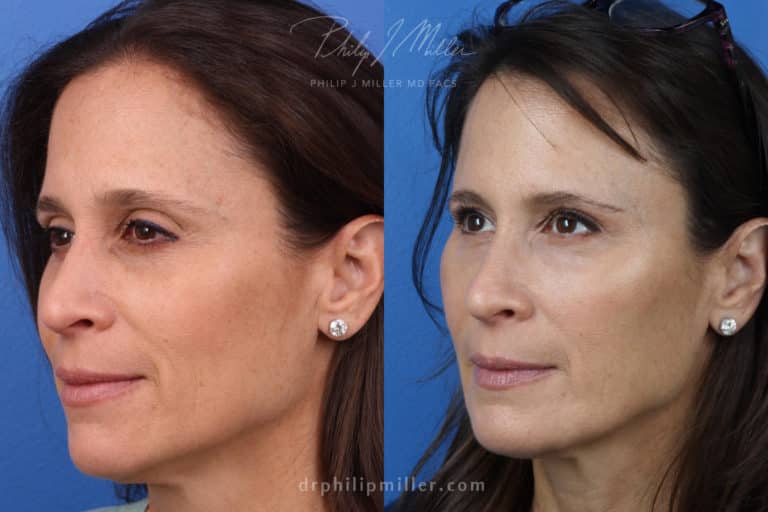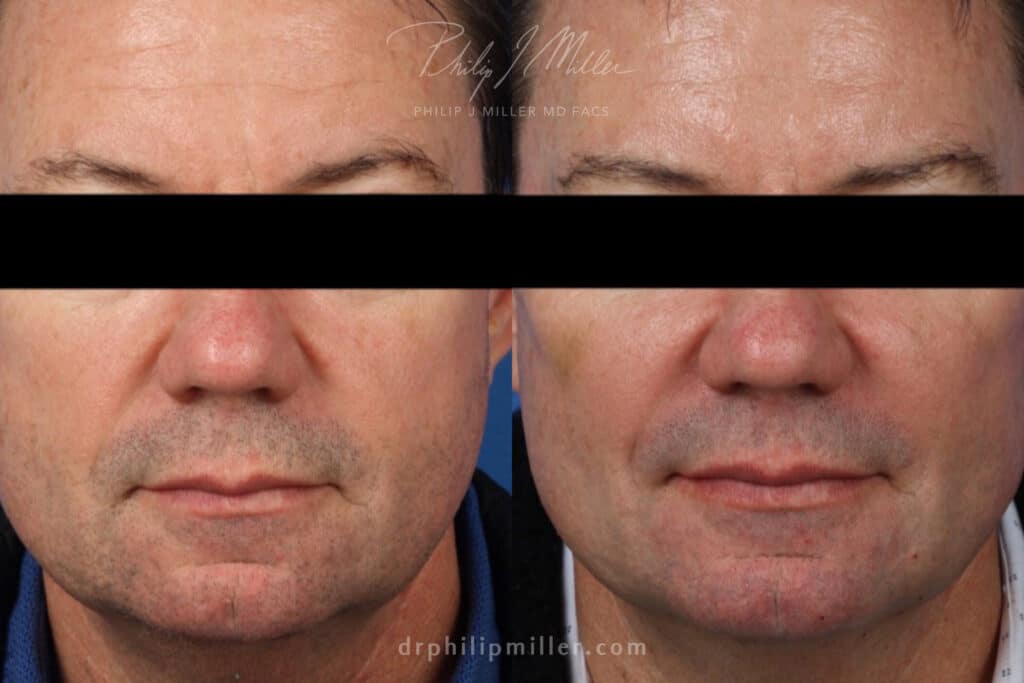 Why choose Dr. Miller for my non-invasive facelift procedure?
Philip J. Miller, MD, FACS is a board-certified facial plastic surgeon who:
Specializes in cosmetic facial procedures
Creates individualized treatment plans for every patient
Focuses on producing natural-looking, life-changing benefits.
Provide the highest level of care in his Manhattan, New York, and New Orleans, Louisiana clinics
Developed his NatraLook process to ensure you receive the best treatments for your needs and goals
Listens to your concerns and goals to develop the best treatment plan for you
Whether you're interested in a non-invasive liquid lift, a minimally invasive MicroLift, or think that another type of facelift would be right for you, you will be in good care thanks to the thorough and compassionate service that Dr. Miller provides.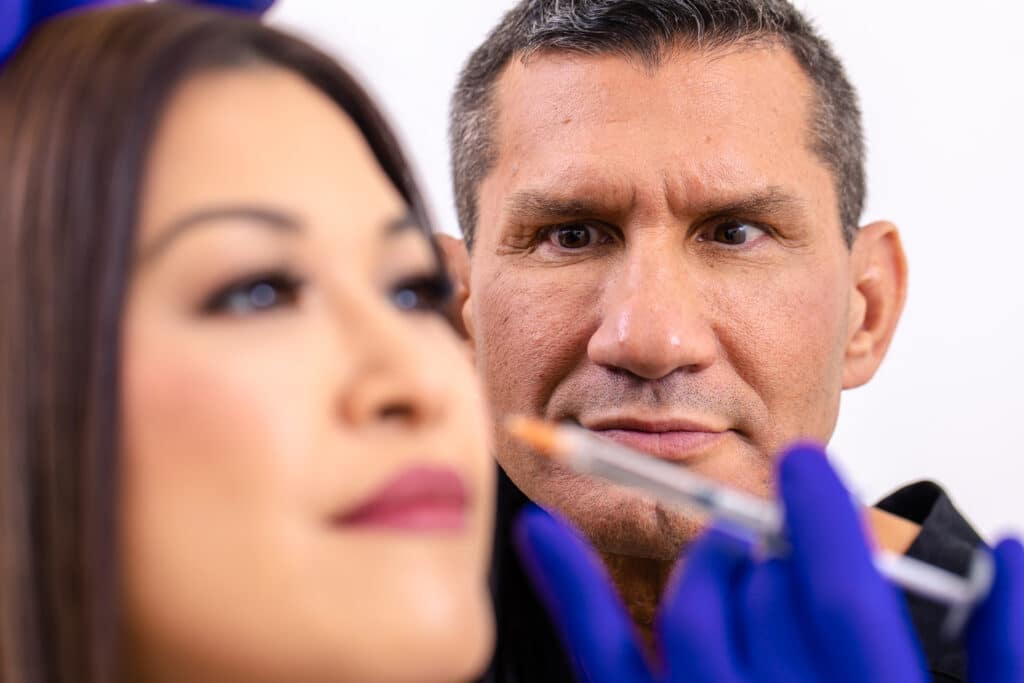 Liquid facelift FAQ
Q: What injectables are used for a non-surgical (liquid) facelift?
A: The Miller Lift uses one or more liquid lift injections to achieve the desired results after assessing each individual's unique needs. Dermal fillers, such as Restylane®, Radiesse®, and Juvéderm® are used to reduce fine lines and wrinkles in the face while restoring volume. Botox may also be used to minimize lines and wrinkles by relaxing the muscles under the skin.
Q: How much does liquid facelift cost in NYC?
A: The procedure begins by helping you feel relaxed. While most facial fillers contain lidocaine to help ensure a comfortable treatment, a topical anesthetic may also be used. After the skin is cleaned and prepped, a tiny needle or blunt-tipped microcannula will be used to administer the facial fillers into your skin. The procedure is done in-office over the course of about 30 minutes.
Q: What does recovery from a non-surgical facelift look like?
A: While no downtime is required after the procedure, you may experience some mild swelling, bruising, itching, and redness around the injection sites. These side effects should fade over the course of a few days. You can apply makeup to conceal any discoloration.
For redness or inflammation, you can apply a cool compress for immediate relief and to speed up the healing process. Those who receive liquid lift injections can go about their normal routine after leaving the office.
Q: Does it hurt?
A: Liquid lifts are a non-surgical option that generally results in minimal pain. Many facial fillers contain lidocaine to help alleviate discomfort, though topical anesthetics may also be applied to reduce unwanted pain symptoms.
Q: Will insurance cover my non-surgical facelift?
A: Being that facelifts are considered a cosmetic procedure and not deemed medically necessary, they are not covered by insurance. While liquid facelift costs will have to be paid for out of pocket, this non-surgical option is far more affordable than a traditional facelift.
Q: How long does a liquid facelift last?
A: The overall lifespan of a liquid facelift will depend on the type of fillers used and where they were injected. Results may last anywhere from 6 to 24 months, though collagen stimulators or fat injections can produce longer outcomes. It is recommended to undergo occasional touch-up treatments every 3-6 months to help prolong the results.
Q: When will I start seeing results?
A: For dermal fillers, you will notice results immediately and should see full effects in about 2 weeks. Neuromodulators like Botox can take 1-2 weeks, while Sculptra and Kybella will take a few weeks for the full effects to be noticeable.
Q: What are the associated risks and complications from this procedure?
A: Dr. Miller is extremely experienced and meticulous, making the safety of his patients one of his primary goals. Because liquid lifts are non-surgical, they are associated with fewer side effects and risks compared to a traditional facelift. Some common side effects may include tenderness, swelling, redness, or bruising following your injections. On very rare occasions, more serious side effects could include allergic reactions, bacterial infections, or skin necrosis.
Q: Liquid facelift vs traditional facelift:
A: A non-surgical liquid facelift is a good alternative to a traditional surgical facelift as it provides a minimally invasive approach to achieve a more natural and youthful-looking appearance. While a surgical facelift will require a 1-2 week recovery period, people who undergo a liquid lift are able to get back to their normal activities almost immediately.
A liquid facelift may provide immediate anti-aging results while reducing the costs, downtime, and risk factors associated with a traditional facelift procedure.
Settle for Nothing But the Best Facial Plastic Surgery
Services >
Aesthetic Confidence
®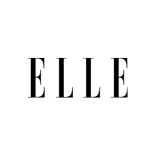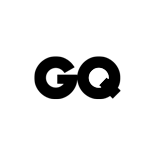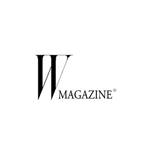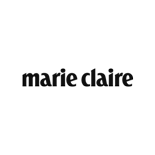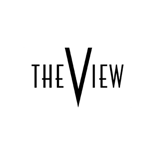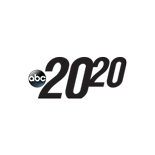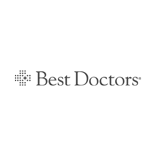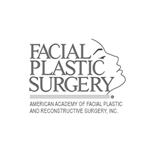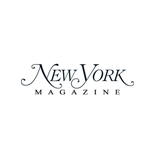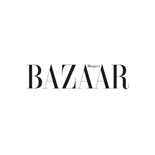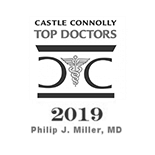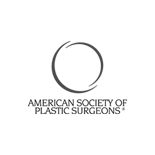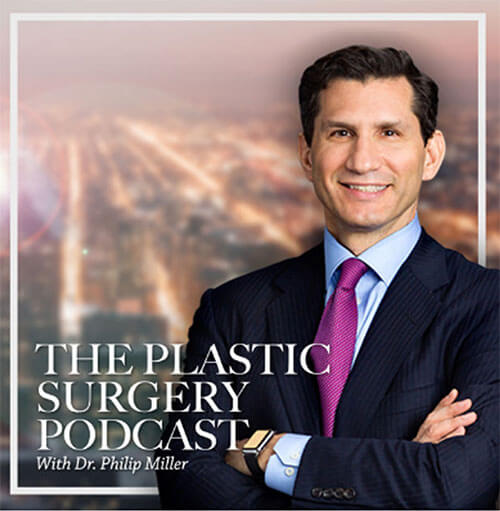 The Plastic Surgery Podcast with Dr. Philip Miller
Tune into The Plastic Surgery Podcast, hosted by facial plastic surgeon Dr. Philip Miller. Dr. Miller is here to answer your questions, de-mystify plastic surgery, and help you feel more knowledgeable and empowered about any procedure performed at our center.
The Plastic Surgery Podcast
View all Episodes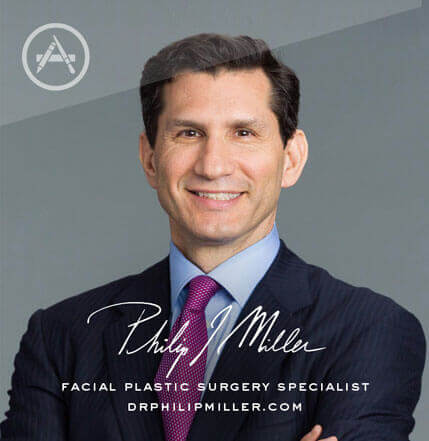 Plastic Surgery w/ Dr. Miller
If you're thinking about getting a lift, nip, or tuck, this app is for you. It's the most comprehensive pocket encyclopedia of plastic surgery terms, before and after photos, and visualization tools to help you really know what to expect from a procedure, including seeing potential results on your own photo. This app is only available on the App Store for iOS devices.
View in Ap

p Store >