Revision Rhinoplasty in New York
An unfortunate reality of facial plastic surgery is that patients are not always satisfied with the final aesthetic outcome of an elective procedure. An inexperienced surgeon, the use of outdated techniques, a lack of doctor-patient communication, and complications that arise during the procedure or subsequent healing process can all impact the rhinoplasty result and become reasons for revision rhinoplasty.
When a nose job is performed to only create facial harmony by refining the size and shape of the nose, it can disrupt the pattern of airflow. Conversely, improvements in breathing may affect the look of the nose. Because of the intricacies of the nasal structure and the sometimes unexpected course of tissue recovery, rhinoplasty may produce unexpected or undesirable results.
Revision rhinoplasty is usually performed about a year after the surgery, and the costs of a secondary (or tertiary) procedure are higher than other types of rhinoplasty because of the increased difficulty (with every additional surgery, the tissues of the body become thicker and more difficult to work with, which makes obtaining the desired results is more of a challenge).
It is estimated that approximately 10-15% of patients who undergo cosmetic nose surgery will request a secondary procedure at some point. It is important to note that only a facial plastic surgeon should perform revision rhinoplasty. Manhattan New York facial plastic surgeon Dr. Philip Miller is known for his ability to produce the most natural and aesthetically appealing rhinoplasty results. He is also a skilled expert, with a high success rate, in correcting work performed by other plastic surgeons during revision rhinoplasty.
When is Revision Rhinoplasty the Right Solution?
During any facial cosmetic enhancement, patients may be presented with surgical limitations. Anatomy can impose parameters that might not be adjustable within the confines of the nose. In such cases where only less extensive improvements are possible, rhinoplasty patients may benefit from non-surgical rhinoplasty, where dermal injections enhance the appearance of the nose, or complementary procedures like mentoplasty (chin implant surgery).
Due to the lengthy healing process following rhinoplasty, patients should not undergo corrective surgery at our New York City surgery suite until the final results of the first procedure are fully visible. There are a number of solutions available for individual needs, but in the cases mentioned above, revision rhinoplasty may not be a viable option.
Revision rhinoplasty is, however, the best choice for patients who have remaining tissue that can be successfully modified through surgery. The procedure can also offer a permanent solution for nasal function issues, in cases of a deviated septum, nasal valve collapse, or irregular nostril shape. Dr. Miller may request patient records and X-rays from the former rhinoplasty surgeon to ensure a complete understanding of revision rhinoplasty cases.



Find out if revision rhinoplasty is right for you



Top Issues Corrected by Revision Rhinoplasty
While individual cases will differ, generally speaking, secondary cosmetic nose surgery can alter the shape, size, and function of the nose. A patient's first plastic surgeon may not have removed enough tissue, and the nose may still appear too broad or over-projected. This follow-up surgery can also address a nose that is too wide. The first rhinoplasty may have produced unwanted side effects, like the build-up of scar tissue that must be surgically treated.
In results where too much tissue has been excised from the nose, the doctor may elect to use nasal implants or grafting techniques (commonly synthetic, animal-produced, or patient-derived) to rebuild the feature. In patients who suffer from nasal breathing issues, the doctor may opt to perform a septoplasty (deviated septum repair) or other reconstructive techniques to address anatomical concerns.
Issues that warrant revision rhinoplasty might include pinched nostrils, a progressive nasal obstruction, or scar tissue formation during the healing process. Sometimes additional surgery is required if the initial surgery did not achieve the patient's goals.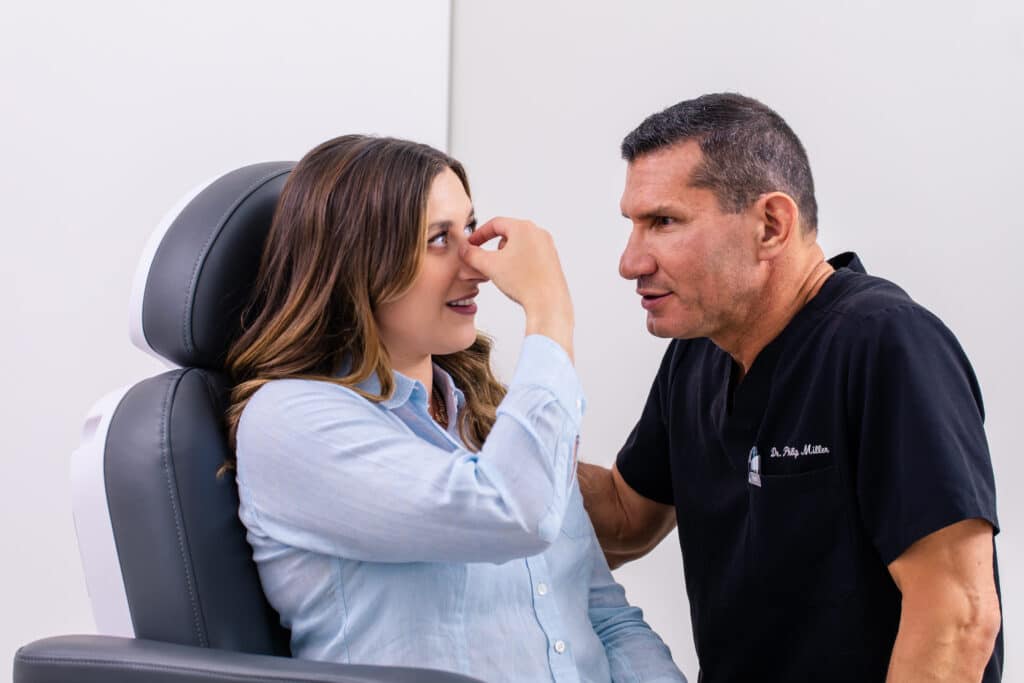 Pinched Tip
A "pinched tip" is a frequent complaint of rhinoplasty patients, where the end of the nose appears compressed or "pinched," resulting in less-than-ideal facial aesthetics and impaired breathing. The "pinch" is due to too much cartilage being removed from the tip of the nose. Over time, the tip loses support resulting in the "pinched nose" appearance, a collapse of the nostrils' shape, and the illusion of a persistent bump.
Short Nose
Following rhinoplasty, some patients experience a "short nose" trait due to the removal of too much cartilage. This condition is often corrected by reinstating cartilage to establish support, and by using specialized grafts to restore a more natural-looking shape.
Crooked Nose
The "crooked" or "twisted nose" is typically derived from a nasal trauma and can sometimes persist even after the first rhinoplasty procedure. Revision rhinoplasty will rearrange the cartilage and bone to create an aesthetically pleasing, symmetrical look. Dr. Miller owns a unique technique for correcting the crooked nose problem that he has presented at rhinoplasty conferences around the United States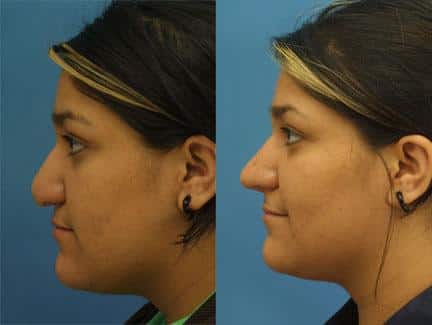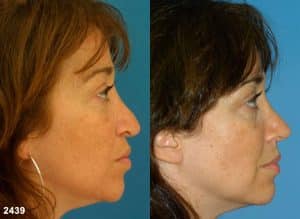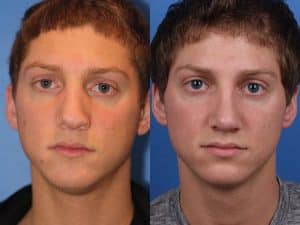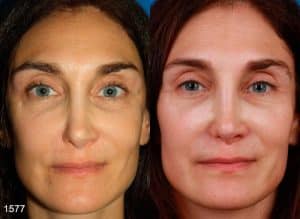 NatraNose®
Dr. Miller's approach to rhinoplasty encompasses the NatraLook® Process, which optimizes the patient experience and strives to ensure the most rewarding results. The goal of this process is for patients to find new aesthetic confidence, or empowerment, after their surgery. It all starts at the consultation, when Dr. Miller will reassure and support your opinions in a positive way, creating a collaborative environment that keeps you involved in your procedure.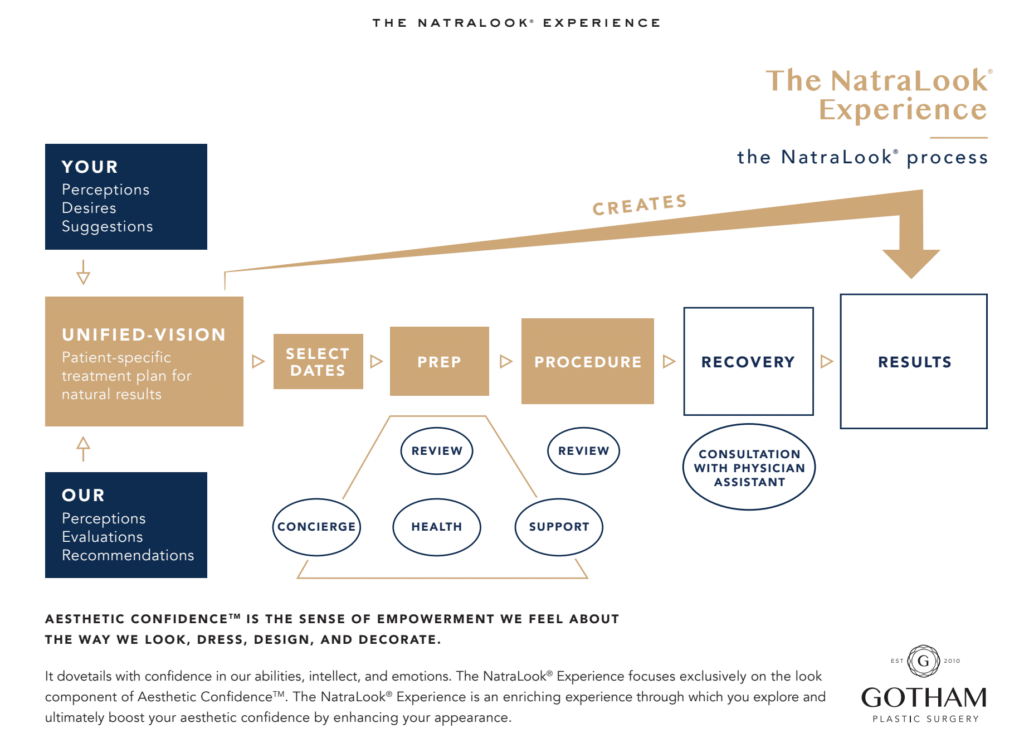 The consultation, at Dr. Miller's rhinoplasty clinic in New York City, is the most important step in your rhinoplasty journey and the factor that will lead to nose surgery satisfaction. It is an excellent time to discuss your expectations and concerns, address any questions, and figure out what you want to take away from your surgery.
Additionally, Dr. Miller will examine and assess your nose and how it relates to your other facial features. He will also evaluate the thickness and quality of your skin. Computer imaging may also be used to help give you an idea of the changes that can be made to your nose and what you can expect from surgery. He will also review your medical history and overall health.
All details of the procedure will be reviewed, including the available options and rhinoplasty techniques, the facility, the anesthesia, the recovery, the risks and benefits, and the costs. Together, you and Dr. Miller can come up with a realistic goal for surgery with his NatraNose approach.
The Revision Rhinoplasty Surgery in New York City
Revision rhinoplasty is performed through an open or closed surgical approach here at our Manhattan facility, similar to primary rhinoplasty. In the closed approach, minimal additional scarring will be visible since the incision is created inside the nose and the work takes place through nostril access. When correcting the results of prior surgeries, it may be necessary to use an open approach with the incision created on the exterior of the nose between the two nostrils. This technique allows for better visibility so the surgeon can see and access the existing issues.
Revision rhinoplasty specialist, Dr. Miller will discuss more specific fixes with patients during a consultation at his New York City office. Some common changes are the removal of bone and cartilage when treating a nasal hump formation, and rebuilding tissues with cartilage when depressions form in the skin.
In instances where the requested fixes are relatively minor, a local anesthesia may be utilized for revision rhinoplasty, while general anesthesia or sedation is typically reserved for more extensive corrections. At the close of the surgery, a protective splint will be placed over the patient's nose to protect it from damage and help maintain the shape during the critical first week in healing. Both bridge and septum splints will be removed one week postoperatively. Sutures will be taken out several days after the procedure.
Revision Rhinoplasty Recovery: Be Careful
Secondary nose job patients may experience some difficulty breathing during the first 1-2 weeks of the recovery period, which is largely due to swelling. Both inflammation and bruising typically occur around the eyes as well. Prescription pain medications can control any pain or discomfort that may be present during healing.
Normal activity is resumed by most patients at around the 10-day mark, though exercise and heavy lifting should be avoided for about 3 weeks. Contact sports, or any activity that could cause trauma to the nose, should be avoided until after the bones have fully healed in 6 weeks.
Revision Rhinoplasty Following a Healed Rhinoplasty
Most doctors will request that patients wait about 12-18 months before undergoing secondary nose surgery. The healing process after the initial rhinoplasty is lengthy and the duration can vary. In addition, the nose will not take on its final form or function for some time. Swelling can take many months to subside, causing the nose to appear larger or of a different shape than it will truly be.
A revision surgery that is performed too soon can result in further disappointment in the look of the nose. Added trauma to an already healing nose and an incomplete recovery can negatively impact the outcome of future facial plastic surgery. Patience is vital during the healing process.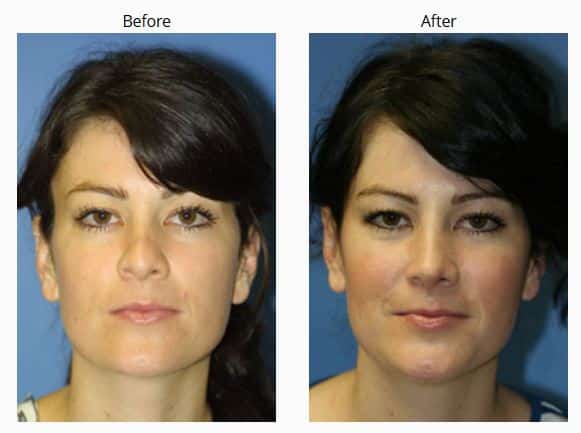 Revision Rhinoplasty Alternatives
Revision rhinoplasty is common when a surgeon makes an error during the procedure or unexpected complications arise. At times, due to the extensive nature of a reconstruction or repair, a patient may understand that revision rhinoplasty is highly likely. When the nose is affected by genetics, disease, or trauma, a patient may require multiple procedures to restore or improve their looks. Often times, reconstructive procedures occur in stages, and it is possible that some patients may undergo one or more revision rhinoplasties to obtain the best cosmetic results.
Revision Rhinoplasty Detailed FAQ
Q: Is revision rhinoplasty painful?
A: Dr. Miller will prescribe pain medication to patients as a precautionary measure, but most report very little discomfort associated with the procedure. There may be some nasal congestion or sinus pressure that can be relieved by non-narcotic medications. More information can be found here.
Q: How many revision rhinoplasty surgeries can be completed on a patient's nose?
A: While there is technically no limit because the tissue will be manipulated and sometimes removed during each surgery, each case will vary. Revision rhinoplasty becomes more complicated with each procedure, and patients should choose a board-certified facial plastic surgeon who specializes in these cases. The nose is a delicate feature and even small changes by the millimeter will create significant changes. Dr. Miller has a high success rate and should be able to revise the nose during a single surgery.
Q: Who are the best candidates for reliable revision rhinoplasty?
A: Prospective patients seeking to undergo a secondary nose surgery should have a fully developed nose, which will have typically stopped growing in a person's mid to late teen years. The individual should be healthy and fully healed from the initial procedure. Candidates should have realistic expectations about the changes Dr. Miller can create.
Q: How long will the exact surgery last?
A: Revision rhinoplasty cases in NYC often require 2-3 hours to complete. In more complicated cases, there may be additional time needed for the surgery.
Q: Is the recovery different from the first rhinoplasty procedure?
A: As with the initial procedure, revision rhinoplasty will require approximately 12-18 months for a full recovery. In cases where Dr. Miller has harvested a patient's own cartilage (sources may be the ears or ribs), there may be some discomfort at these sites as they heal too. There may be additional swelling with the addition of nasal implants or the removal of extra material, especially if the first surgeon took a very conservative approach.
Q: Will insurance cover revision rhinoplasty?
A: When the facial plastic surgery, or a portion of the surgery, is performed to improve nasal breathing, insurance may pay for those specific costs. Dr. Miller's office can contact the patient's insurance company for an estimate of care to determine what the patient's responsibility will be.
To learn more about revision rhinoplasty, visit med.stanford.edu.
The Best Revision Rhinoplasty Surgeon in NYC: Philip Miller, MD, FACS
Revision rhinoplasty specialist, Dr. Philip Miller has over two decades of experience in cosmetic medicine, a high success rate of facial plastic surgery procedures, and has been voted among the Best Doctors in America for the past 10 years and Top Doctor of New York City. Dr. Miller is sought after for his innovative techniques in both rhinoplasty and revision rhinoplasty, which he has lectured and written textbook chapters on. Contact Dr. Miller's Manhattan office to schedule a revision rhinoplasty consultation.
Last updated: 11/22/2021
Settle for Nothing But the Best Facial Plastic Surgery
Services >
Aesthetic Confidence
®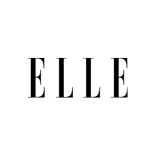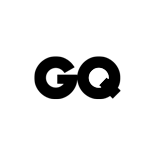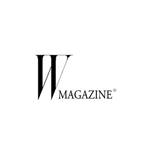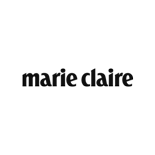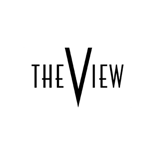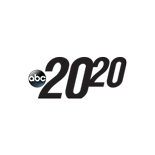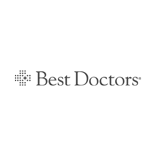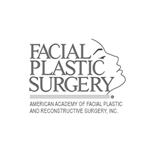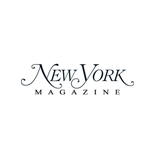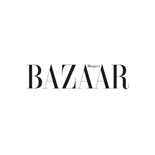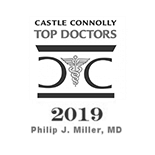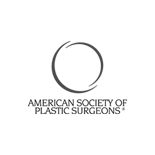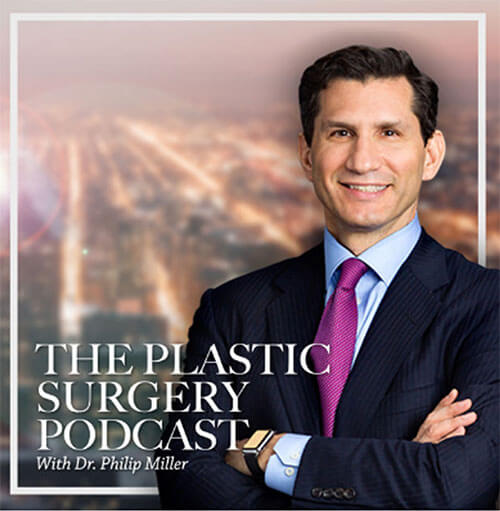 The Plastic Surgery Podcast with Dr. Philip Miller
Tune into The Plastic Surgery Podcast, hosted by facial plastic surgeon Dr. Philip Miller. Dr. Miller is here to answer your questions, de-mystify plastic surgery, and help you feel more knowledgeable and empowered about any procedure performed at our center.
The Plastic Surgery Podcast
View all Episodes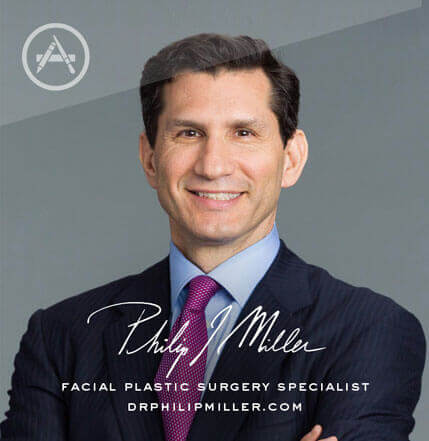 Plastic Surgery w/ Dr. Miller
If you're thinking about getting a lift, nip, or tuck, this app is for you. It's the most comprehensive pocket encyclopedia of plastic surgery terms, before and after photos, and visualization tools to help you really know what to expect from a procedure, including seeing potential results on your own photo. This app is only available on the App Store for iOS devices.
View in Ap

p Store >