Have you been considering cosmetic work, but aren't sure when the best time may be to have your procedure? Fall is the perfect time for several reasons, so schedule your consultation now. 
4 Reasons Fall is the Perfect Time for Cosmetic Surgery
1. Avoid the sun and heat.
With the cool autumn weather, you won't have to worry about inflammation or skin damage from sun exposure or hot temperatures. 
2. Recover before the holidays.
If you have your surgery done in the fall, you can recover before the festivities begin. You'll feel refreshed and ready to enjoy time with your loved ones during the holiday season.
3. Greater Scheduling Flexibility.
Many patients schedule cosmetic procedures in late winter or early spring. By scheduling your cosmetic procedure during the fall, you're more likely to get the best appointment date for your schedule. 
4. Treat yourself before the holidays.
Before the frenzy of  the holiday season begins, why not treat yourself to some much-deserved self care and a new look to greet the New Year? 
Turn Back the Clock with a Facelift
Manhattan's world-renowned facial plastic surgeon, Dr. Philip Miller, specializes in facelifts and rhinoplasty. He offers several facelift options: a traditional facelift, a mini facelift, a Micro Lift, or the proprietary Miller lift. One of these is sure to be the right one for you. 
Facelift Options
A facelift, or rhytidectomy, may be the perfect procedure for you if you're looking for results that significantly turn back the clock. This procedure removes excess or sagging facial skin for a renewed, youthful look. 
During a traditional facelift, incisions are made at the hairline and continue in front of and behind the ears, extending to the lower scalp. Fat can be redistributed from your face and neck through these incisions, or liposuction may be used for the removal of excess fat. Muscles and skin are lifted and tightened.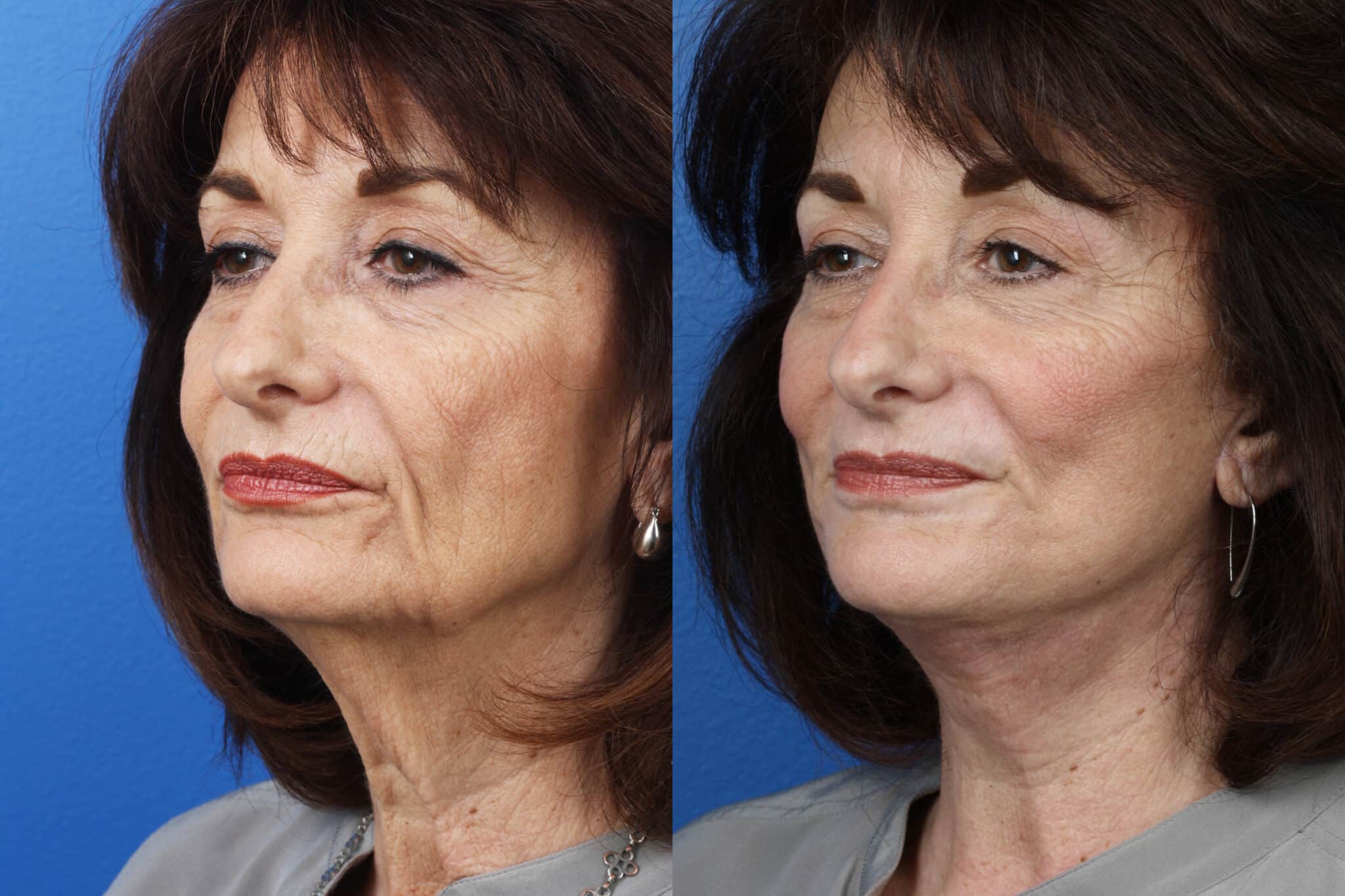 Incisions made during facelift surgery are hidden in the natural creases of your face and hairline, and meticulously closed with sutures to minimize visibility after your procedure. Drainage tubes may be inserted but can be removed in 1-2 days. Sutures are removed between 5-10 days.
A mini facelift targets those areas of the face that are just beginning to wrinkle and sag. The incisions are shorter than a traditional facelift, and often confined to the front of the ear only. The mini facelift requires local anesthesia and can be performed in 90 minutes or less. 
The innovative, minimally invasive Micro Lift mimics the improved appearance that comes with pulled-back hair. It can be a perfect option for patients in their 20s-40s who want to erase early signs of aging. Comfortable, safe, quick, and performed under local anesthesia, the Micro Lift takes less than an hour in the office and requires little post-procedure downtime.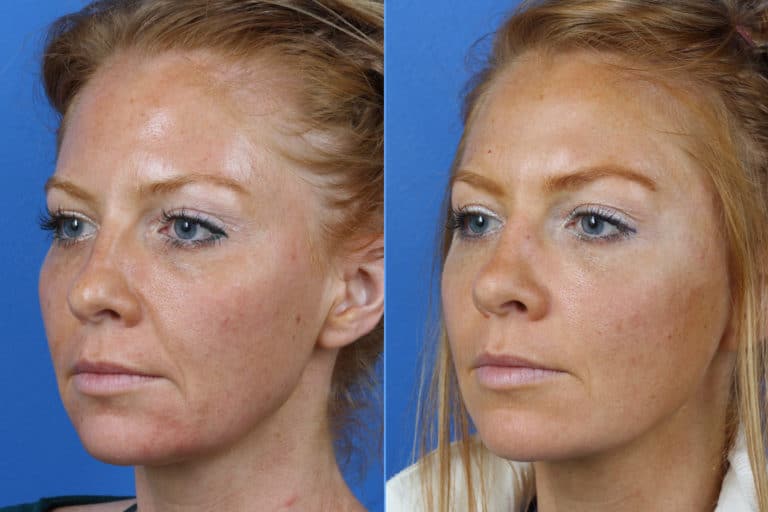 The Miller Lift is a proprietary, custom-designed liquid facelift technique that uses a combination of fillers, such as Juvéderm® and Restylane®, to soften and fill out lines and wrinkles. Besides smoothing wrinkles, facial fillers can address volume loss in the cheeks, chin, lips, and other contours of the face. 
Along with facial fillers, Dr. Miller performs injections of Botox Cosmetic® to address the dynamic wrinkles associated with facial expressions, such as forehead wrinkles, frown lines, and crow's feet. Collagen stimulators, such as Sculptra, and fat eliminators, such as Kybella, round out the Miller Lift. Results can last for up to two years. 
Achieve Balance with a Rhinoplasty
Surgical vs. Non-Surgical Rhinoplasty
Surgical rhinoplasty, also known as a nose job, adjusts, corrects, or reduces the look of the nose. Dr. Miller will consider the prominence of your cheeks, your jawline, your skin thickness and quality, and the overall dimensions of your nose before advising you how to achieve the changes you want while maintaining overall facial balance. 
A major benefit of rhinoplasty is that it's typically a "one-and-done" procedure. Once the procedure is complete and the nose has fully healed, patients can enjoy the results for a lifetime.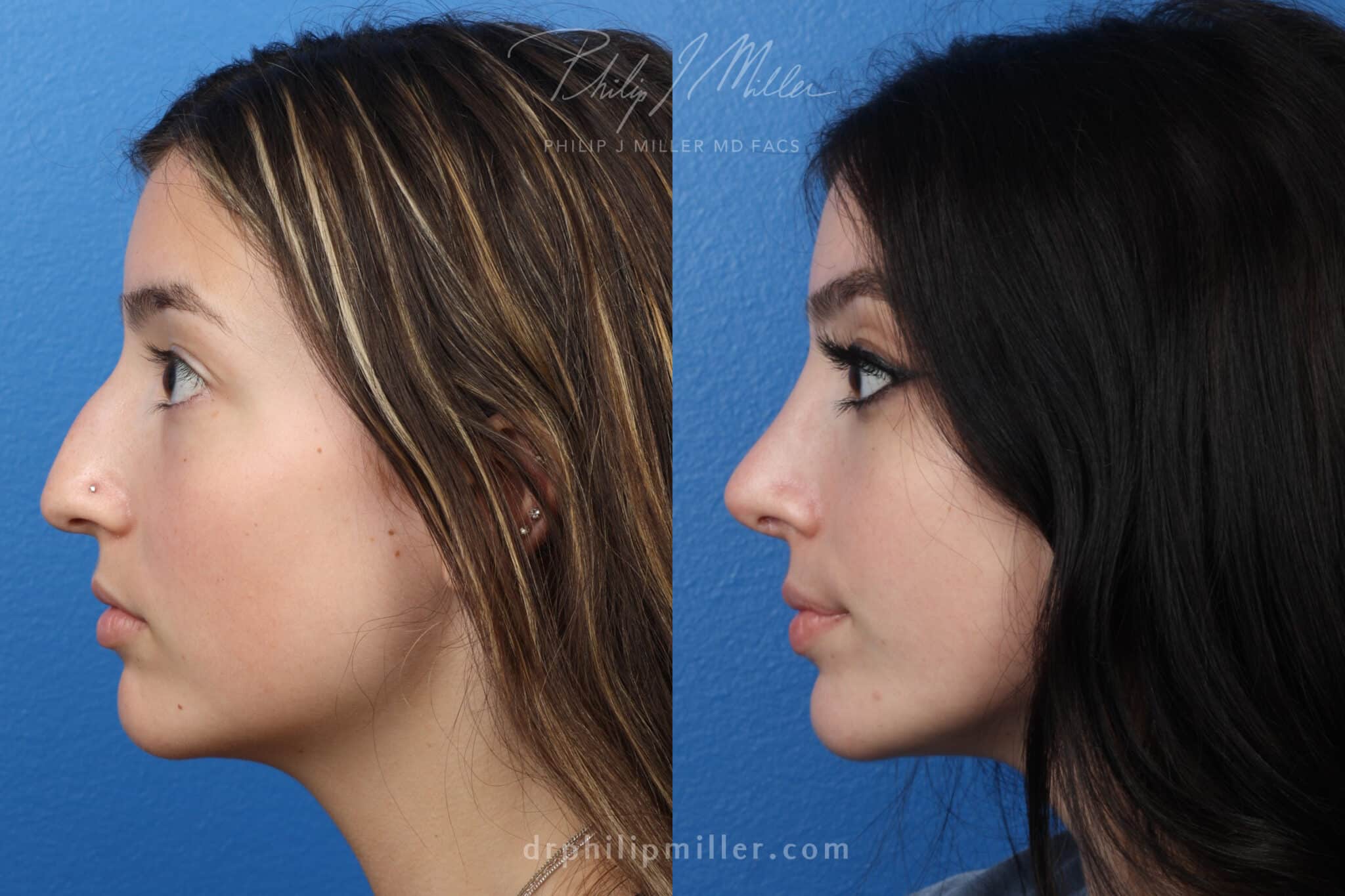 Non-surgical rhinoplasty, also known as liquid rhinoplasty, uses injectable fillers to make subtle, yet dramatic changes to your appearance.
Non-surgical nose jobs are safe and effective, providing immediate results with exceptionally short recovery time. With this non-invasive procedure, injectable fillers are used to make small yet dramatic modifications to the nose. 
Non-surgical rhinoplasty has its limitations, however. Since corrections are made with dermal fillers that ultimately dissolve, results aren't permanent. Non-surgical nose jobs aren't appropriate for every nose and can't reduce the size of the nose. 
Results will vary by patient, but the longevity of a non-surgical nose job is typically between 8-24 months. During your consultation, Dr. Miller will give you an idea about what you might expect from your results as well as how long they might last.
Quick Pick-Me-Ups: Botox and Dermal Fillers
Surgery isn't your only option for rejuvenating your appearance. Injectables minimize wrinkles and add volume in areas that lack fullness. With little-to-no downtime, injectables deliver results in a matter of days so that you can enjoy your fresh, youthful appearance right away.
Botox relaxes the muscles that pull on the skin to form wrinkles. Botox Cosmetic is superior to dermal fillers for minimizing frown lines, horizontal furrows on the forehead, and crow's feet around the eyes. It can also be used around the lips, around the nose, or on the bands of the neck. Results last up to four months.
Dermal fillers, including Restylane® and Juvéderm®, are gel-like substances that restore volume. They fill in creases and static wrinkles, which form from gradual volume loss. Hollow cheeks, saggy jowls, and under-eye bags are common treatment areas for dermal fillers, which can last up to 12 months or more.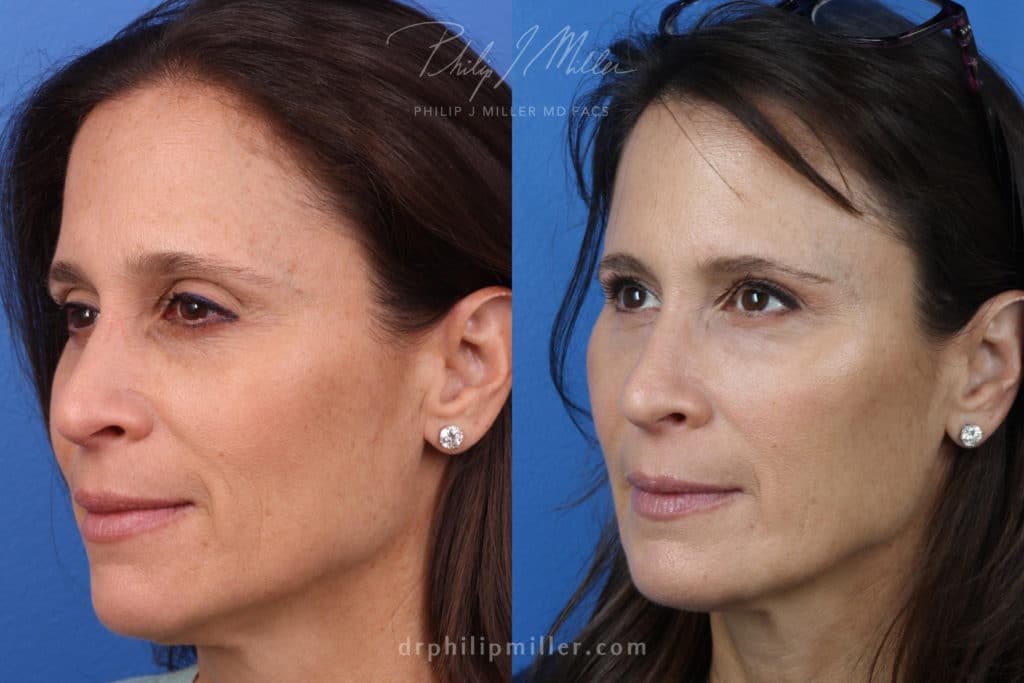 Dr. Miller and his team of skin specialists in New York provide the latest and most effective wrinkle treatments. Using various injectables, Dr. Miller can restore facial volume, reduce deep wrinkles, and help rejuvenate and lift the face.
Natural Results for a Beautiful 2022
Aesthetic Confidence® is the sense of empowerment we feel about the way we look, dress, design, and decorate. It dovetails with confidence in our abilities, intellect, and emotions. The NatraLook Process focuses exclusively on the look component of Aesthetic Confidence. The NatraLook Process is an enriching experience through which you can explore and ultimately boost your aesthetic confidence by enhancing your appearance.
The NatraLook process evaluates and expands the typical plastic surgery experience into a safe, non-intimidating opportunity to explore your aesthetic confidence. It provides a reassuring, supportive, and positive environment. It creates a unified vision of your desired result so that you and New York surgeon Dr. Philip Miller know what to expect.
The Next Step: Consulting with a Plastic Surgeon
Renowned for producing natural-looking results that exceed expectations, Dr. Philip Miller and his team of New York City's top-rated facial plastic surgery experts provide custom cosmetic treatment plans. These include a combination of minimally invasive techniques and advanced procedures to help each patient achieve the Aesthetic Confidence® they desire.
After a comprehensive facial evaluation, Dr. Miller can recommend the best treatments to meet your goals. To discuss your full range of treatment options, contact his plastic surgery office today.
Non-Surgical Facial Rejuvenation, or as laymen's refer to it, a "Liquid Facelift" is the latest in innovative treatments available in NYC. Patients are lining up to take advantage of the non-invasive methods offered to aid in their concerns for wrinkles, sagging skin, and other anti-aging issues. The beauty behind this procedure is you are achieving optimal, desired results without undergoing surgery or extensive recovery time. The Liquid Facelift is an accredited, cosmetic treatment designed to help you rediscover your natural, youthful beauty by re-filling areas of soft tissue that have diminished with age. This "facelift in a bottle" can safely and effectively restore ageless beauty.
Rejuvenation is just as important as prevention when it comes to assisting patients in successfully appearing fresher, more youthful, attractive, and give their confidence a much needed boost! The right board-certified surgeon will provide you with a customized plan. The physician's expertise allows a certain level of flexibility to utilize various products and multiple techniques to help a patient understand how their goals will be executed and how to produce the proper aesthetic expectations for each individual patient.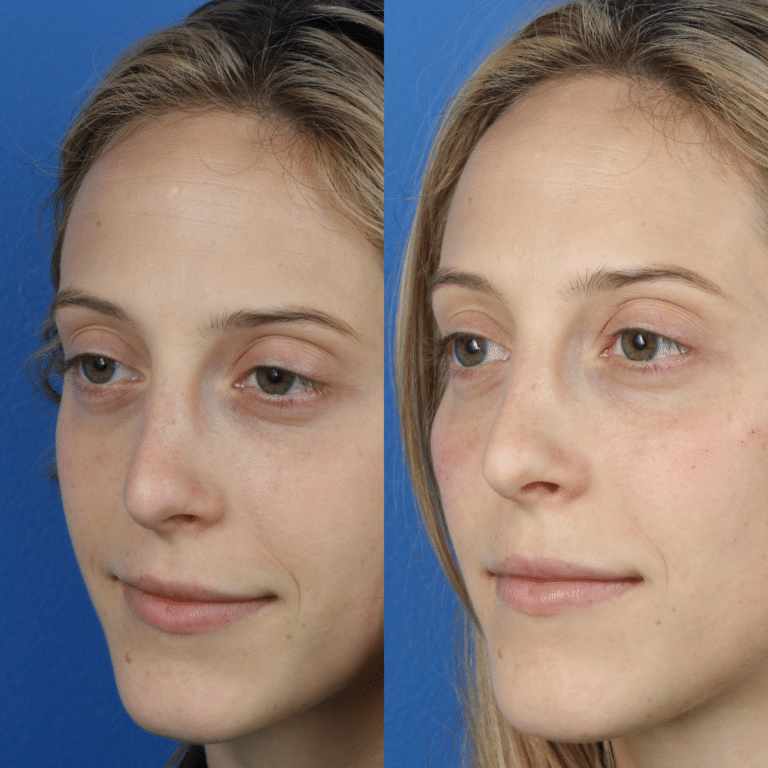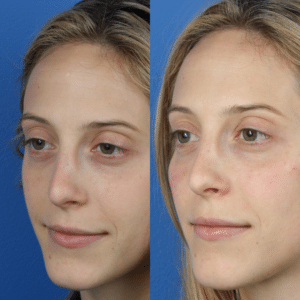 A Liquid Facelift treatment may involve Botox, which relaxes muscles in the face, giving patients a reduction in the fine lines around their eye and brow area. There is a diverse range of dermal fillers to infuse volume and life back into the skin. Fillers will be a key tool for filling in wrinkles and adding contouring to the overall facial structure. For the Liquid Facelift, Dr. Miller uses a combination of facial fillers, such as Restylane and Juvederm, to fill in areas of the face where natural fat has depleted with age or where hollows have developed. This effectively plumps and contours the face and fills in wrinkles, creases and lines for a more youthful appearance. It can plump facial folds like the nasolabial folds and improve under eye bags and hollows. Common treatment areas include the eyes, cheeks, mouth area and chin. The lips can also be treated for a fuller, pouty appearance while also improving annoying lipstick lines that may have developed with age. Dr. Miller may also perform Botox injections at the same time to address dynamic wrinkles associated with facial expressions, such as frown lines, forehead wrinkles and crow's feet. The Liquid Facelift can also be combined with the NatraFirmST Skin Tightening system, or Ulthera for individuals concerned with sagging skin.
Many patients may have a fear of invasive procedures, even if they are minimal, there is a hesitance or apprehension that comes from any long-term, permanent, or painful aspect of the process. Yet, individual's still strive for an improvement or "youthifying" (the latest term being thrown around by medspa professionals defining rejuvenation) transformation. If this sounds like you, Liquid Facelift may be the perfect solution for you.
Dermal Fillers used in the treatment, are becoming increasingly popular and seemingly the norm for beauty maintenance. The reason for the leading demand is most patients describe the injection as "they don't feel a thing." In rare cases, some patients may experience a slight discomfort like that of a pinch. When researching, you will find that the benefits of the filler will last anywhere between 6-12 months. Patients will notice a gradual change in the mirror when the injection seems to be wearing off. The good news is patients will receive continual quality care with the guidance and personalized plan from their surgeon for basic upkeep.
What To Expect In Liquid Facelift?
The Liquid Facelift is performed in the office setting and can be completed within an hour or less. There is typically little discomfort and a topical or local anesthetic is often sufficient. Recovery is minimal and most patients are able to return to their normal routine right away. Some minor redness, swelling and bruising can occur but these side effects tend to resolve quickly. Results can be seen immediately with continued improvement as Botox, if used, begins to take effect.
Proof Is In The Face
The Liquid Facelift can provide an excellent alternative to a traditional surgical facelift for individuals seeking more immediate improvement with no downtime and minimal risk or those looking to avoid surgery altogether. It is ideal for younger individuals who are not yet ready for or in need of surgical correction but would still like to improve early signs of facial aging and volume loss. For some, treatment can even help to postpone surgery. Results are temporary, generally lasting anywhere from six to twelve months.
For more information on our available procedures or if you have any questions about Liquid Facelift treatments specifically, or any of our other dermal fillers, and services, we are happy to assist you. Please contact our office or feel free to schedule a consultation with top board-certified facial plastic surgeon, Dr. Philip Miller.
Nose Reshaping Surgery, Different Nose Shapes, Rhinoplasty Guide, Nose Plastic Surgery Men, Asian Nose Surgery