What's Behind the Sudden Rise in Rhinoplasty Popularity?
Social media is a very visual medium –it's a virtual place to see and be seen. Therefore, it's no surprise how daily postings can somehow fuel our vanity or our quest for having the perfect selfie. Did you know that selfies can make your nose look about 30% larger? It's because of how the camera on the phone distorts objects up close. Due to this, some people are convinced that no photo-editing app is good enough to make themselves and their noses look flawless and that undergoing plastic surgery is the only key to achieving social media-approved beauty. This has led to a meteoric rise in the popularity of rhinoplasty, also known as a "nose job." 
Despite the apparent popularity of rhinoplasties, you should have a keen awareness that not just any surgeon is right for the job. One of the most crucial steps in guaranteeing a satisfactory nose procedure outcome is choosing the right surgeon. Rhinoplasty is one of the most challenging cosmetic procedures to perform, so you should only trust a surgeon with rhinoplasty expertise, experience, and skill. A great surgeon is also a good listener, a compassionate and patient caregiver, and an effective communicator.
For patients in New York City who seek a nose job with reasonable expectations and their desire comes from a "healthy place"—perhaps, to improve self-esteem or to correct a functional issue – facial plastic surgeon Dr. Philip Miller will combine his expertise and skill with his artistic eye to produce impeccable results that are life-changing.
Surgical And Non-Surgical Rhinoplasty Options
Your nose is one of the most prominent features of the face as it brings balance to your facial profile.  That's why it's often the first thing people notice on your face. If you feel that your nose detracts from your whole face, diminishing the beauty of your eyes or other facial features, and more importantly, if you have trouble breathing, you may be a candidate for a rhinoplasty.
Voted among the Best Doctors in America and Top Doctor of New York since 2007, Dr. Miller has lectured on cutting edge rhinoplasty techniques, including his innovative NatraNose procedure,  and even written chapters for rhinoplasty and neck rejuvenation textbooks. He can provide custom cosmetic treatment plans that include a combination of advanced procedures and minimally-invasive techniques to help you achieve your desired results.
Which Nasal Procedure Is Right For You?
Nose shaping was the third most popular cosmetic surgical procedure performed in 2018 according to the American Society of Plastic Surgeons report, so it is important to know the facts of what rhinoplasty means and the process behind the types of procedures. Each procedure will have its own set of advantages. While a non-surgical nose job will involve no pain, no recovery time, no scarring, and will cost less than a traditional rhinoplasty, it cannot address all nasal issues. A non-surgical rhinoplasty utilizes injectables, and injectables can only be used for augmentation and not a reduction. For larger cosmetic nose concerns, surgical rhinoplasty is still the best long-term solution. 
As a leading rhinoplasty surgeon who has devoted most of his career to the human nose, Dr. Miller can help recommend the best approach to achieve your aesthetic goals. He can even use virtual rhinoplasty to help you visualize nose job results from the comfort of his office. Virtual Rhinoplasty uses the latest in technology and computer imaging to provide patients with the ability to see what the results will look like even before undergoing any procedure. This gives you the opportunity to explore how different changes to your nose will impact the final results.
One major benefit of this technology is that it provides a visual tool for communication between surgeon and patient. This will help Dr. Miller understand your nose job goals as well as make the necessary recommendations that will ensure that both of you are on the same page before any procedure begins.
Rhinoplasty
A rhinoplasty can change the shape of your entire nose or just a small portion of it with the goal of making it fit more harmoniously with the rest of the face. These are the specific changes often requested during a nose job:
Improve the crooked appearance of the nose to achieve symmetry

Remove a bump or hump in the nose

Reduce the size of the nose

Increase the size of the nose

Reshape the nose

Narrow or refine the nasal tip

Alter the tip projection

Reduce Wide Nostrils
The 1 ½ – 2 ½ hour procedure may be done either under general anesthesia or under sedation. Most incisions are made inside the nostrils, or a small one made along the natural creases found on the sides or near the base of the nose.
Skin is then lifted from the underlying cartilage and bone, and the nose is recontoured and reconstructed. The incisions heal quickly and leave scars that are nearly invisible. Dr. Miller also offers variations of his nose surgery procedures depending on your age, gender, ethnicity, and desired goals. Examples are Teen Rhinoplasty, Male Rhinoplasty, MicroRhinoplasty, Ethnic Rhinoplasty, and Revision Rhinoplasty.
Non-Surgical Rhinoplasty
Not everyone will need surgical rhinoplasty. As one of New York City's top rhinoplasty surgeons, Dr. Miller understands that not every patient who desires to alter their nose will need invasive surgery to achieve dramatic results. For patients like these, or for those not ready for surgery and would like something temporary, Dr. Miller has developed a specialized area of practice that will give you the transformation you want using non-surgical methods.
Also referred to as a liquid rhinoplasty, a non-surgical nose job allows surgeons to alter the nose's shape, size, the position of the nasal tip, or to hide bumps. It is a quick, pain-free alternative to invasive surgeries for correcting undesirable noise characteristics.
Hyaluronic acid fillers such as Restylane, Perlane, and Juvéderm are the preferred injectables for a liquid rhinoplasty. They are the easiest to mold and shape, and can be removed within 24 hours should you wish to have the results reversed. Radiesse may also be used under certain circumstances. When injected, these fillers will smooth and contour the existing nasal structure, helping you achieve a nose that creates facial balance and harmony. Results can last up to a year before the procedure needs to be repeated to maintain optimal results.
Consult With A Rhinoplasty Expert In New York
Double board-certified in Facial Plastic and Reconstructive Surgery as well as Otolaryngology/Head & Neck Surgery, Dr. Philip Miller is one of the country's leading experts in rhinoplasty and facial rejuvenation. As a renowned facial plastic surgeon who trained as an ear, nose, and throat specialist, Dr. Miller has extensive experience dealing with the nose. For more than two decades in Manhattan, he has dedicated his career to providing patients with customized surgical and non-surgical facial procedures. To learn more, contact Dr. Miller today.
Settle for Nothing But the Best Facial Plastic Surgery
Services >
Aesthetic Confidence
®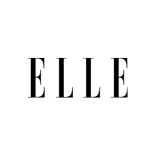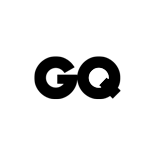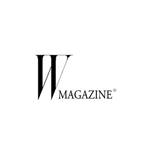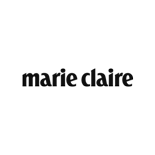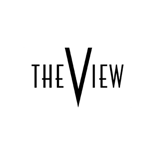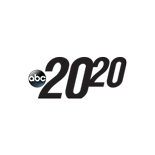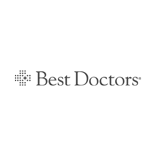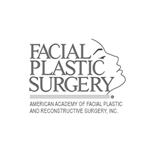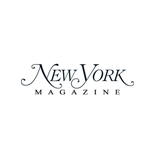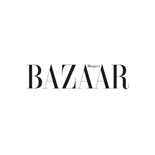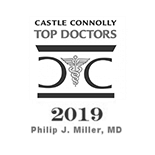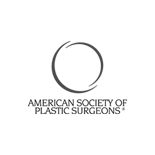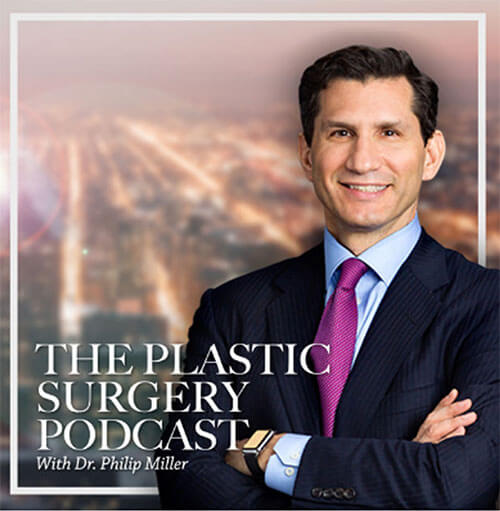 The Plastic Surgery Podcast with Dr. Philip Miller
Tune into The Plastic Surgery Podcast, hosted by facial plastic surgeon Dr. Philip Miller. Dr. Miller is here to answer your questions, de-mystify plastic surgery, and help you feel more knowledgeable and empowered about any procedure performed at our center.
The Plastic Surgery Podcast
View all Episodes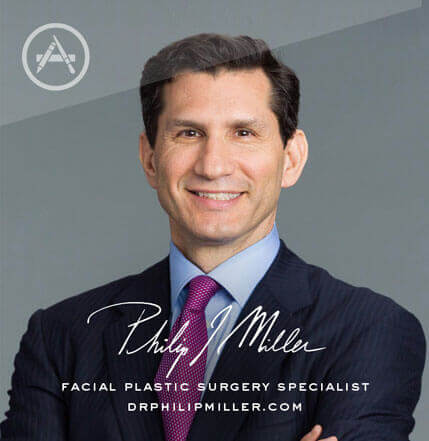 Plastic Surgery w/ Dr. Miller
If you're thinking about getting a lift, nip, or tuck, this app is for you. It's the most comprehensive pocket encyclopedia of plastic surgery terms, before and after photos, and visualization tools to help you really know what to expect from a procedure, including seeing potential results on your own photo. This app is only available on the App Store for iOS devices.
View in Ap

p Store >