Could a Facelift Be Your New Beginning?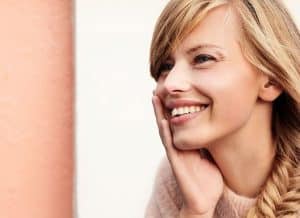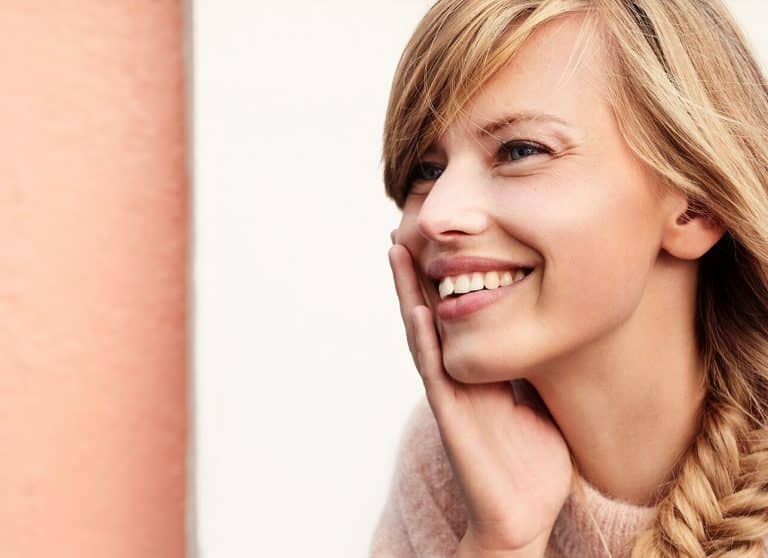 If you've been thinking about having a facelift surgery, you might already know what your motivation is. Even if you haven't pinpointed your one real reason for having this surgery, it does exist and it drives you to book a consultation, plan ahead for the procedure, and cash in your sick days for a proper recovery. More often than not, the men and women seeking facelift surgery are looking for a new beginning, in one way or another.
What Can a Facelift Do to Help?
A facelift procedure is a surgery performed in order to restore a youthful appearance to the face. It can correct unwanted effects of aging, such as drooping and wrinkled skin, fat deposits around the chin and jaw, and loosened facial muscles. All of these effects can contribute to a tired, older-looking face that may make you look worn down to those around you. Facelift surgery can help rejuvenate your appearance by alleviating the saggy, lax look from the lower part of the face.
Facelift surgery, or rhytidectomy, begins with incisions placed around the hairline and ears, as determined by your plastic surgeon. With the incisions in place, your surgeon will redistribute the fat deposits collected around your chin and jaw to other areas of the face that have lost volume; any excess fat will be removed, sometimes using liposuction for best results. The muscles of the face are then lifted and tightened, followed by the skin. With the skin now adjusted to a firmer position, the excess is trimmed away and the incisions are sutured closed. The result is a more well-defined profile and more youthful look.
New Beginning #1 – A New Job or Promotion
Today's workforce is a competitive place to be, especially with so few jobs available to those with years of experience and qualifications. Pink slips abound as companies cut back on unneeded employees, sometimes bringing in younger workers to fill the empty spots. In other cases, promotions are going to younger employees, whom management perceived to be younger with more energy and a longer career ahead of them. As a middle-aged worker with the right qualifications, getting passed over in favor of someone who looks younger can be quite a blow to your self-esteem and even your commitment to your job.
Facelifts are on the rise in recent years, with male and female patients alike citing their desire to stay competitive at work as a major motivator. By improving the way you look and feel, your self-confidence is naturally bolstered. Upper-level management takes notice of confidence and the qualities that come with it. While a facelift alone can't get you a new job or help you climb the corporate ladder, it can certainly trigger changes in you that can help. Starting a new beginning in your career could be just the boost you need.
New Beginning #2 – A Special Occasion to Debut the New You
Many patients see an upcoming event or special occasion as the perfect reason to get a facelift. From 20-year high school reunions to awards banquets to a child's wedding, the special events that qualify as a facelift motivator are diverse in purpose. Still, each of them share three things in common: the event is a life milestone with heavy meaning to the patient, the event will likely involve taking many pictures, and the event will include many other people, some of whom the patient hasn't seen in a long time. Looking your best at big events like these doesn't just mean getting a haircut and a new outfit anymore. When you reach the point where your facial features don't look like you anymore, it's time to start a new beginning with a facelift.
Bear in mind that planning a surgery in time for a special event can be a delicate business. Do yourself a favor and book your facelift out far enough to allow for a full and proper recovery. With enough time to rest and relax, you'll certainly look like the youthful you for those friends, family, and photos. Follow your surgeon's instructions carefully to ensure that the smoothest recovery and best results are achieved with your facelift.
New Beginning #3 – The End of One Era, Start of the Next
Another popular reason that patients seek facelift surgery really is a beginning of a new phase of life: divorce. Men and women often find themselves stuck in a rut after ending a relationship with their partner, even if it was mutual and amicable in nature. Whether you're planning to reenter the dating scene or just spending more time caring for you, facelift surgery can give your self-confidence and self-image a boost. When you look in the mirror and go out into the world, you will have this confidence with you. Achieving this feeling is a good way to begin any major transition. It may also be a good way to psychologically mark a change in yourself.
New Beginning #4 – The Recommitment to Caring for Yourself First
Finally, the best reason of all for a facelift surgery is yourself. While a new career, special event, or ended relationship can be significant, the root of each of these motivators is a desire to better yourself. You don't always need the bigger reasons to spend the time and money investing in how you look and feel. Many patients reach the decision for a facelift just by realizing that they would feel better if they addressed their aging concerns.
If you have noticed sagging skin and muscles around the lower portion of your face, you could be a good candidate for facelift surgery. You should also be in good overall physical health, not smoke, and have realistic expectations about what plastic surgery can do for you. If you're not sure, consult with a credentialed plastic surgeon experienced in facelift surgeries to be evaluated. This could be the new beginning you've been waiting for.
Schedule Your New Beginning with a Facelift Specialist
Any new beginning can't get very far if your procedure doesn't go smoothly. Get the best results from a facelift procedure with a low rate of risks when you plan your surgery with a reputable, specialist facial plastic surgeon. Dr. Philip Miller has specialized exclusively in facial plastic surgery, offering over 20 years of experience and knowledge to his patients. A recognized expert in facial rejuvenation procedures, Dr. Miller has been frequently invited to share his specific techniques with his peers at various national facial plastic surgery meetings. He has been voted among the Best Doctors in America each year since 2007 and has also been named a Top Doctor of New York. To schedule a consultation with Dr. Miller, contact his office located at 60 East 56th Street, Third Floor in New York City, by calling (646) 791-3025.
Next, learn How to Pick the Perfect Time for a Facelift
Settle for Nothing But the Best Facial Plastic Surgery
Services >
Aesthetic Confidence
®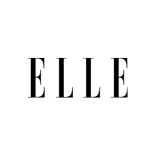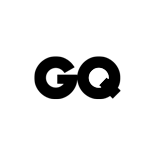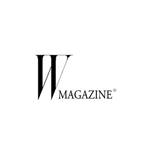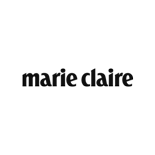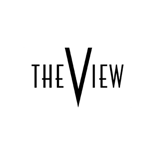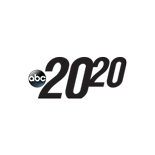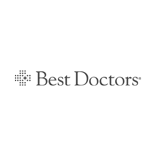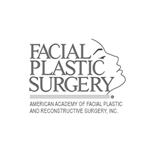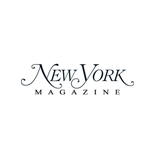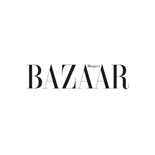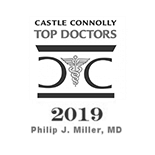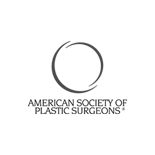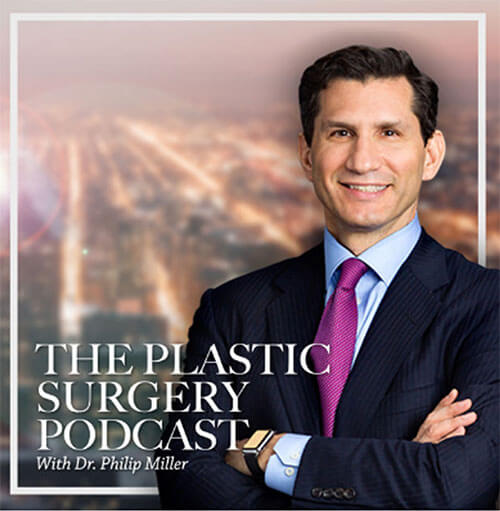 The Plastic Surgery Podcast with Dr. Philip Miller
Tune into The Plastic Surgery Podcast, hosted by facial plastic surgeon Dr. Philip Miller. Dr. Miller is here to answer your questions, de-mystify plastic surgery, and help you feel more knowledgeable and empowered about any procedure performed at our center.
The Plastic Surgery Podcast
View all Episodes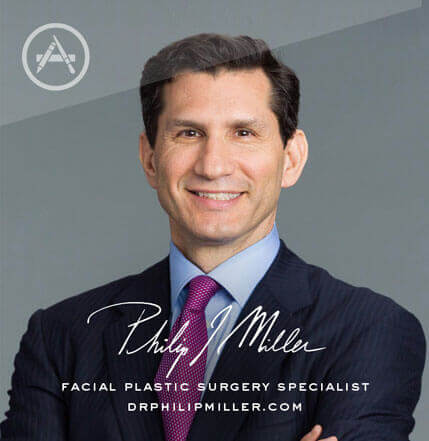 Plastic Surgery w/ Dr. Miller
If you're thinking about getting a lift, nip, or tuck, this app is for you. It's the most comprehensive pocket encyclopedia of plastic surgery terms, before and after photos, and visualization tools to help you really know what to expect from a procedure, including seeing potential results on your own photo. This app is only available on the App Store for iOS devices.
View in Ap

p Store >