Plastic surgery helps individuals achieve the aesthetic beauty and confidence they desire. Bravo's Real Housewives are open about and supportive of plastic surgery to enhance or change facial and body features. The women had a wide range of treatments in 2021 and spoke candidly on their shows and social media platforms.
Philip J. Miller, MD, FACS, a distinguished double board-certified facial plastic surgeon with more than 20 years of experience, offers these procedures in Manhattan, New York. He is recognized as an expert in rhinoplasty and facial rejuvenation procedures and is known for his innovative techniques and focus on natural-looking results. Dr. Miller and his team of experts can perform the procedures the Real Housewives had done this year; take a look at some highlights:


The Nose Craze
Rhinoplasty was a big hit among the Real Housewives in 2021. Teresa Giudice and Raquel Leviss—to name two—both had rhinoplasty procedures. Many patients feel their nose detracts from other facial features and choose rhinoplasty to adjust the shape or size to fit harmoniously with the rest of their facial features.
Rhinoplasty is a complex procedure that requires a skilled and experienced surgeon, as well as extensive preoperative discussions and planning. Dr. Miller considers facial structure, the prominence of features, and skin quality and thickness when advising patients on how to achieve their cosmetic goals and overall facial balance.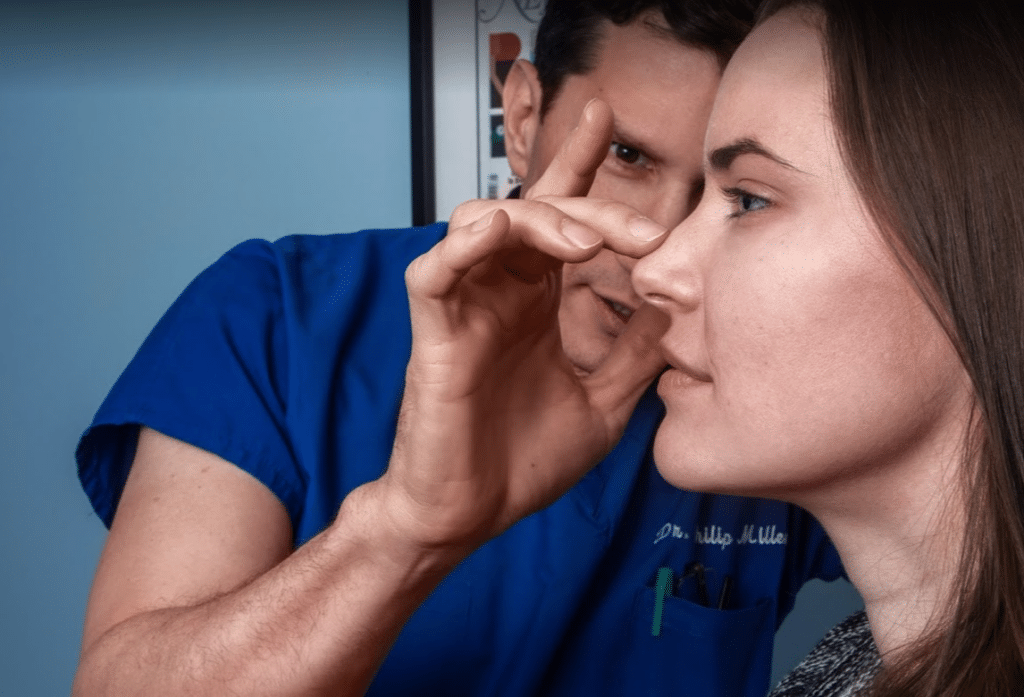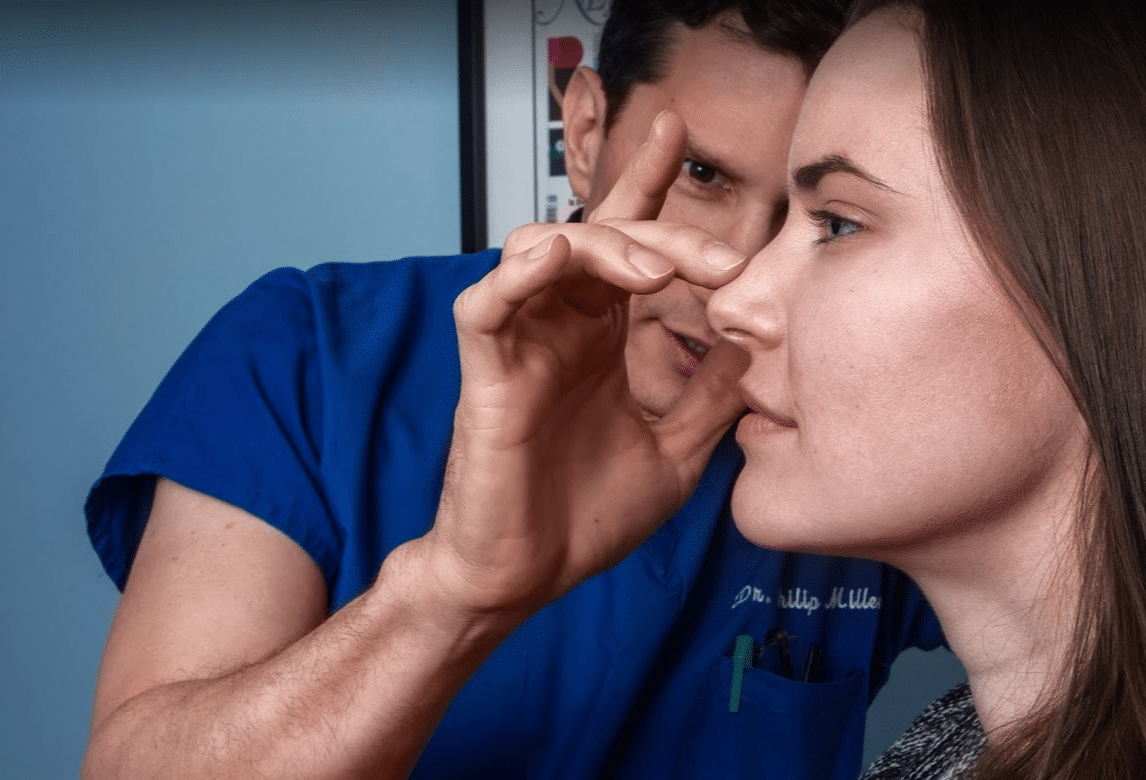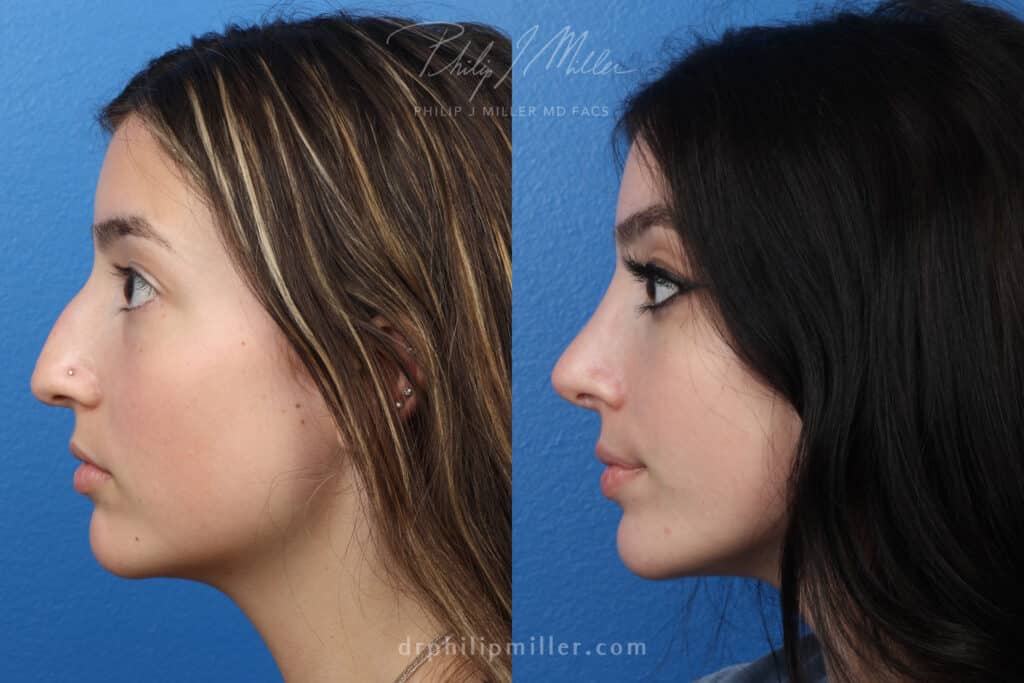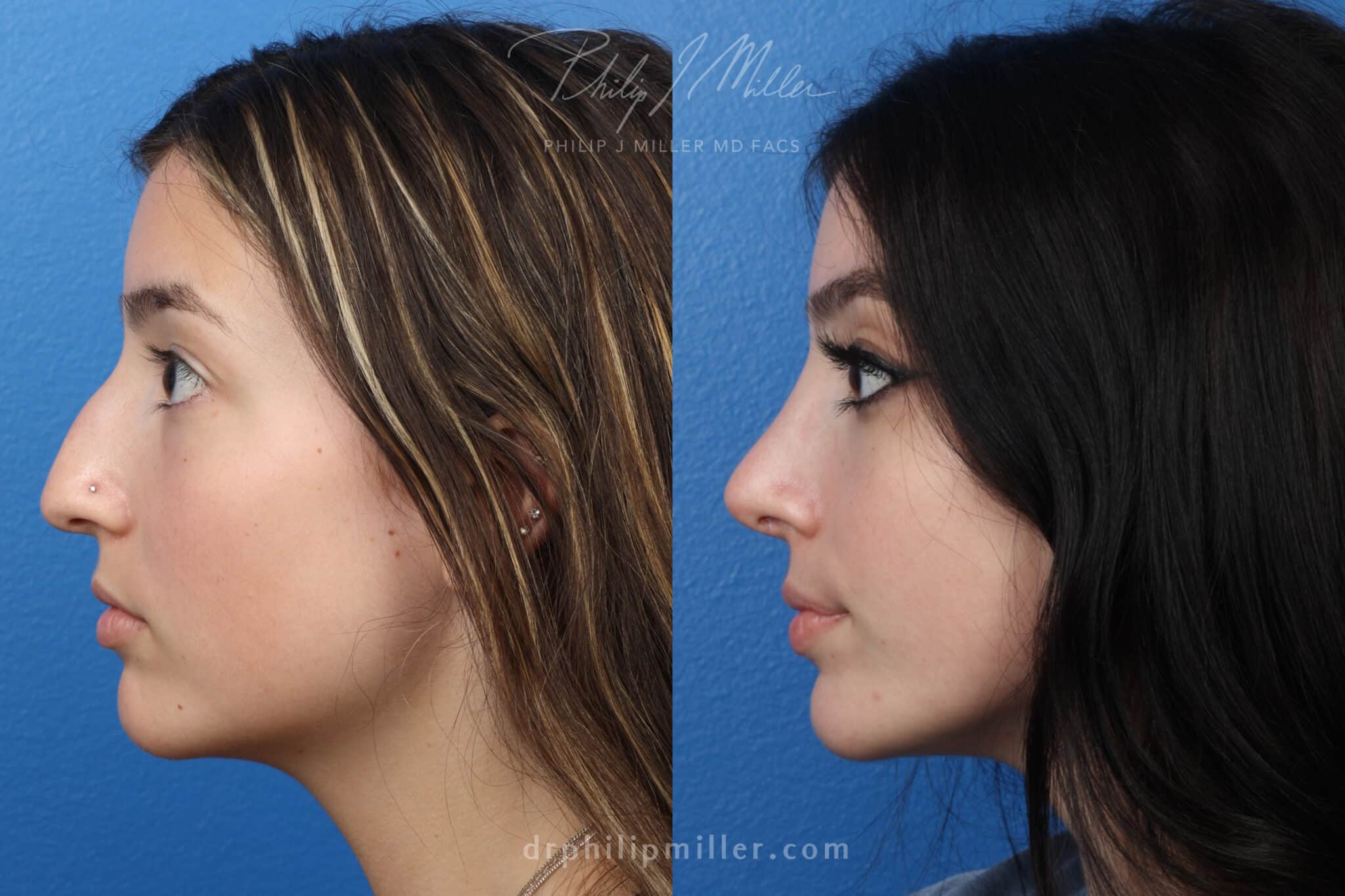 In the case of Real Housewife Raquel Leviss, she felt disappointed with her results and thought her fiancé bumping into her nose may have contributed to unwanted results. While finding an expert surgeon is important, sometimes results can be different from what a patient envisioned. Dr. Miller offers revision rhinoplasty for patients disappointed in results, or that suffered a nose injury or trauma after the initial procedure.
Rhinoplasty can tackle a small problem area or completely reshape or resize your nose. Teresa Giudice felt her nose was too round on the top and turned to rhinoplasty to feel more confident. Whatever the reason, whatever the concern, Dr. Miller can work with you to find a solution and create natural, beautiful results for you.
Combining Procedures
Many plastic surgery combinations are safe and provide maximum results. By combining procedures, patients can reduce recovery time, limit the use of anesthetics, and eliminate multiple surgeries. Some procedures make sense to perform together, such as a facelift and fillers, or chin augmentation and rhinoplasty.
Combination procedures have been popular with many of the Real Housewives, as the convenience of scheduling multiple treatments at one time can save both time and money.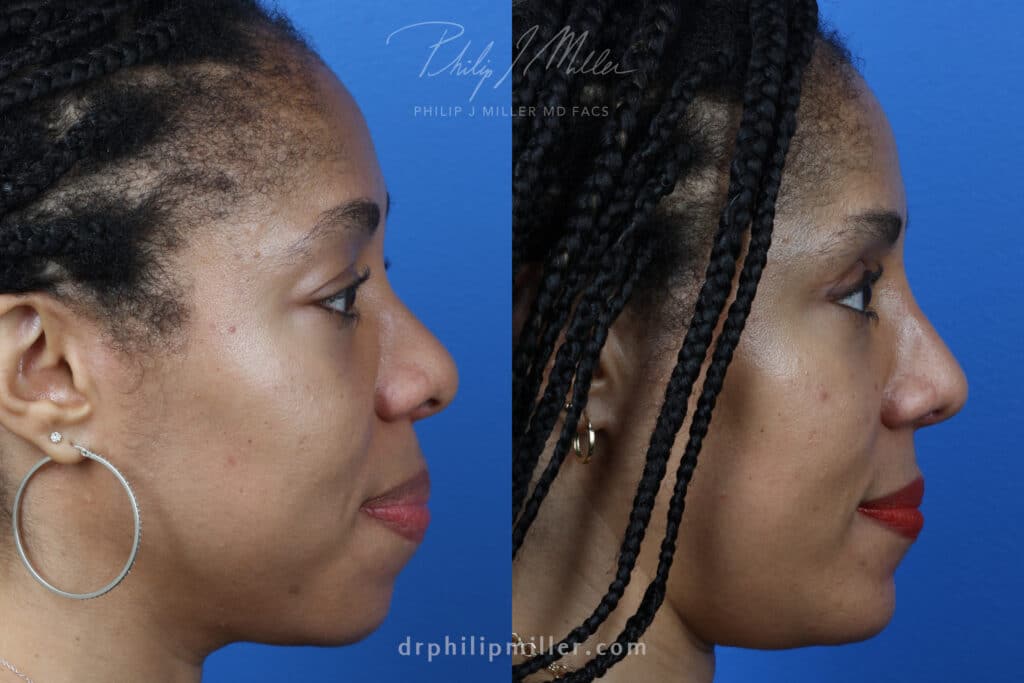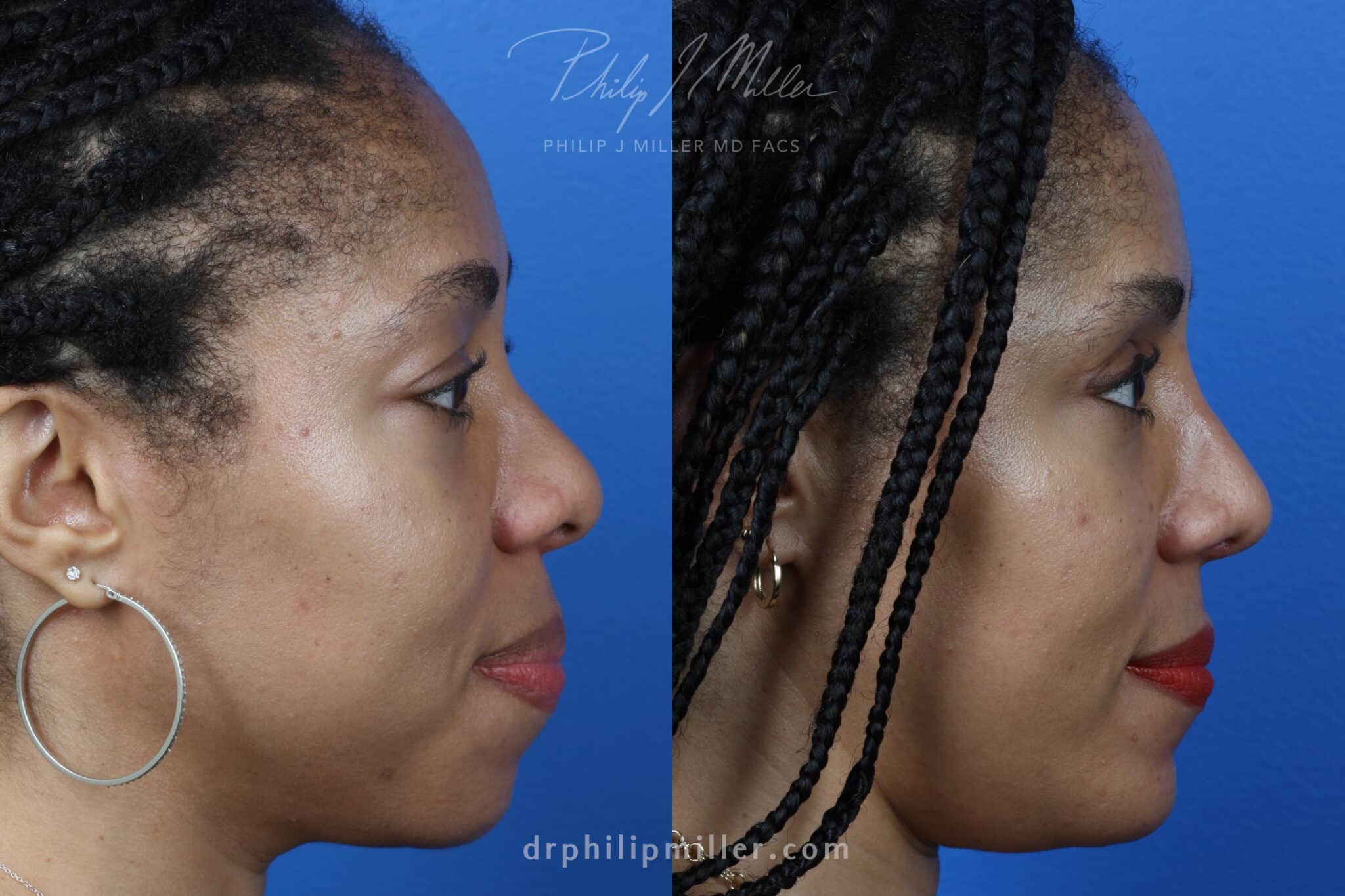 Dr. Miller works closely with patients to identify their cosmetic goals and create a custom plan with combination treatments to meet those goals quickly and efficiently. Like Jennifer's case, sometimes balance can only be achieved when multiple areas are addressed with different procedures. Seeing satisfying results from combination procedures can boost your confidence and comfort.
Getting a Lift
Facelifts—and other major plastic surgeries—are most common in the fall and winter to avoid heat and sun exposure and see results before summer months or holiday events. A facelift is a popular procedure that tightens sagging skin from aging and weak muscles. Loose skin can be moved or removed to create a natural look and a more youthful appearance.
Dolores Catania and Emily Simpson are two Real Housewives that have undergone a facelift. There are different types of facelifts that produce various levels of results. Emily had a mini lower facelift which is less invasive and targets more minor areas of wrinkles or loose skin. Dr. Miller offers different types of facelifts in his Manhattan office, including:
Traditional Facelift: Incisions are made at the hairline, continue in front and behind the ears, and extend to the lower scalp. Muscles and skin are lifted and tightened, and closed with sutures.
Mini Facelift: This procedure uses shorter incisions and targets areas that are just beginning to wrinkle or sag. This minor outpatient treatment can be accomplished in less than 90 minutes.
Thread Lift: A unique thread with tiny barbs is used to pull the skin up and back. This thread latches onto the skin and remains in place to keep the skin smooth.
Micro Lift: This minimally invasive procedure creates the look one achieves with pulled-back hair. It is a quick and safe procedure with little downtime.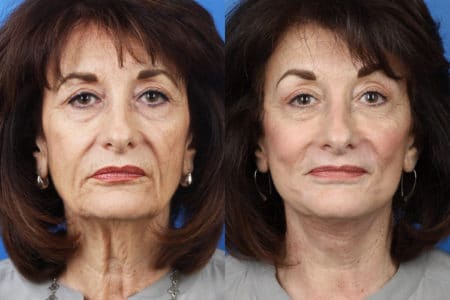 Fast and Fabulous
Dermal fillers and Botox ® Cosmetic are popular, especially among Real Housewives. Botox treats frown lines and other dynamic wrinkles by blocking nerve impulses to facial muscles, while dermal fillers target static wrinkles and restore youthful volume. Knowing the right product, treatment area, and limit is key to achieving your best possible results.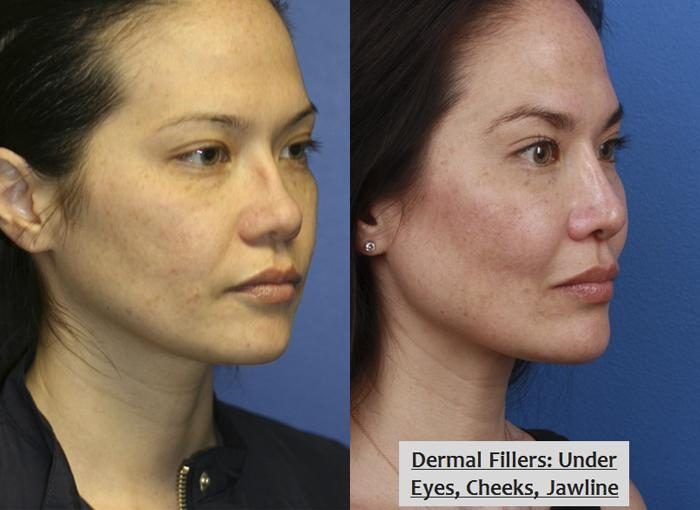 Real Housewife Shannon Storms Beador admitted to overdoing it on fillers. When too many facial fillers are used, it can dramatically alter an appearance and create disproportionate features and an unnatural look. Dr. Miller uses the unique NatraLook® approach to aesthetic beauty. The NatraLook process empowers individuals to explore aesthetic confidence safely and naturally. Dr. Miller and his team strive for natural-looking results to provide patients with an extraordinary experience.
Dr. Miller can suggest which Botox and filler treatments are right for you to create the customized approach that produces the most natural improvement.
Your Best Choice for Facial Plastic Surgery in New York City
Many plastic surgery procedures help you look and feel your best. Whether you want a single treatment, combination procedure, or a total makeover, Dr. Miller can help you achieve your aesthetic goals. NYC #1 facial plastic surgeon, Dr. Miller, uses minimally-invasive techniques, innovative technology, and advanced surgical methods to help patients boost their confidence and achieve their aesthetic goals.
Contact us today to learn more about our procedures and schedule a consultation.
Rhinoplasty surgery was the most frequently requested cosmetic surgery in 2020, with over 352,000 procedures performed. 
Facial plastic surgeon, Dr. Philip Miller in New York City—one of the country's leading experts in rhinoplasty and facial rejuvenation—can help you achieve a nose you'll love. You may choose traditional rhinoplasty to reduce or reshape the nose. For other patients, non-surgical rhinoplasty is the right choice to achieve their aesthetic goals.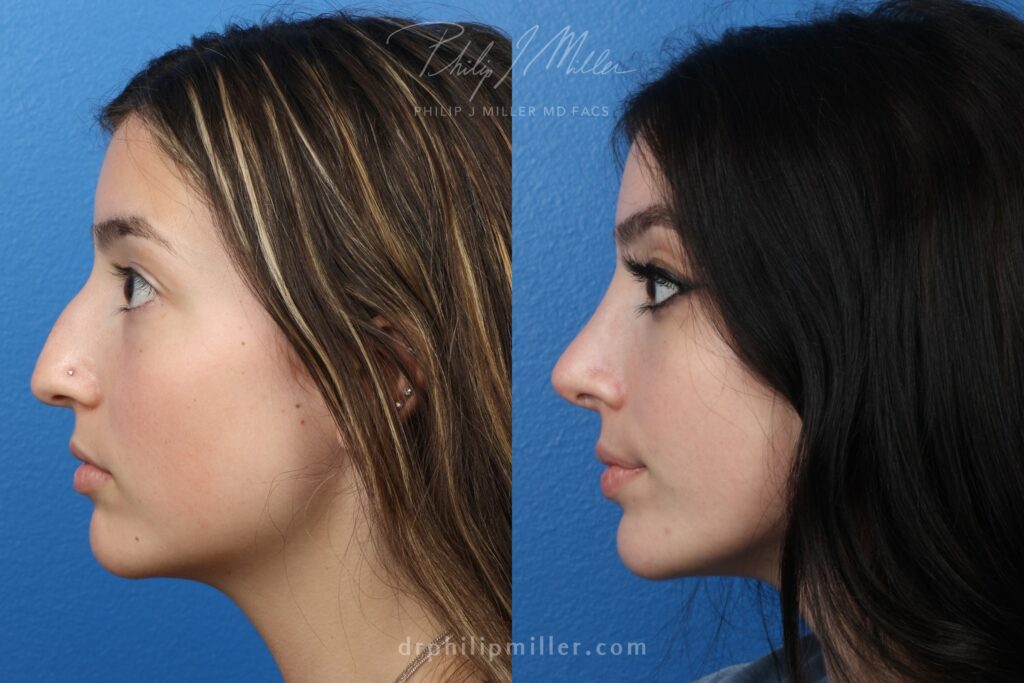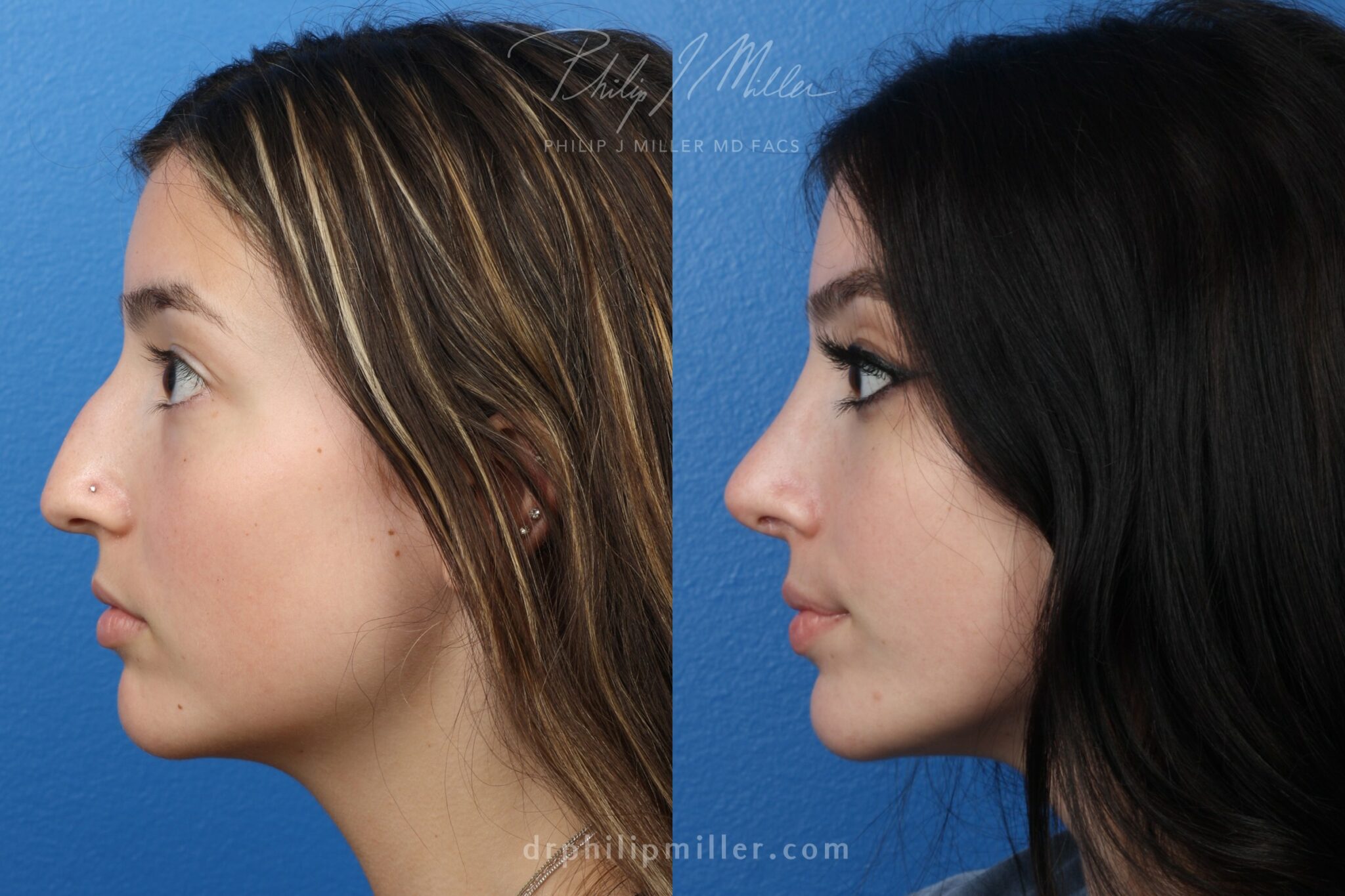 Let's look ahead at five rhinoplasty trends we expect to see in 2022. 
1. Zoom Boom Brings Rhinoplasty Boom 
Because of the COVID-19 pandemic, 2020 was a challenging year for many businesses. But for Zoom, the video-conferencing giant, lockdown and working from home brought unprecedented growth. 
Zoom usage jumped 67% between January 2020 and mid-March, when non-essential businesses and schools closed. The Zoom Boom also resulted in significant growth to an entirely different industry—cosmetic surgery. 
The built-in cameras on our computers are clearly not designed to flatter the human face, and many people weren't pleased with the reflection they saw on their computer screens. 
The unflattering camera angle highlights facial flaws, such as wrinkling and sagging. People noticed unfamiliar lines, creases, and asymmetries as they saw themselves speaking on camera. 
It's not surprising that the Zoom phenomenon caused a booming demand for cosmetic procedures such as dermal injectables, laser treatments, and eye lifts. 
On a Zoom conference call, the position of the computer's camera relative to the user puts the focus on the center of the face, making the nose appear larger. As a result, demand for rhinoplasty significantly increased as well, and will likely continue into the New Year. 
2. The Need for Natural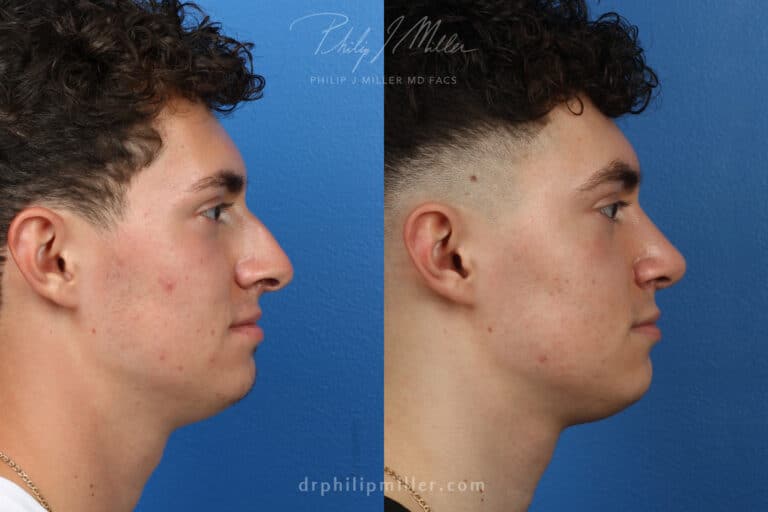 In Manhattan, Dr. Miller is renowned for the natural results he achieves for his patients, both with traditional rhinoplasty—for patients desiring more significant changes and permanent results—as well as non-surgical rhinoplasty, for patients seeking relatively minor corrections. As demands for natural results will continue to be a factor in 2022, Dr. Miller is prepared to deliver satisfying results to his New York patients.
Rhinoplasty, also known as a nose job, is a surgical procedure that can improve the appearance of the nose by reshaping, reducing, augmenting the tissue, removing a bump, or adjusting the angle between the nose and the mouth.
A major benefit of rhinoplasty is that it's typically a "one-and-done" procedure. Once the surgery is complete and the nose has fully healed, patients can enjoy the improvements over their lifetime.
If you're dissatisfied with your nose because of minor depressions or hollows that affect its overall appearance, non-surgical rhinoplasty may be the right solution for you. Non-surgical nose jobs are safe and effective, providing immediate results with exceptionally short recovery time. With this non-invasive procedure, injectable fillers are used to make small yet dramatic modifications to the nose. 
Non-surgical rhinoplasty has its limitations, however. Since corrections are made with dermal fillers that ultimately dissolve, results aren't permanent. Non-surgical nose jobs aren't appropriate for every nose and can't reduce the size of the nose. 
Results will vary by patient, but the longevity of a non-surgical nose job is typically between 8-24 months. During your consultation, Dr. Miller will determine which fillers might help you achieve the best results and how long the improvement might last. 
3. Faster Recovery Times 
Plastic surgeons today are starting to use techniques to minimize post-procedure discomfort and healing time. Rhinoplasty is typically performed as an outpatient procedure under general anesthesia, and patients return home on the same day. While you may be up and moving within 24 hours, expect to take up to a week off from work or school as you heal. 
For the first several days, you'll need to keep your head elevated and apply ice packs to reduce swelling. Most swelling and bruising subsides within a week following rhinoplasty. Nasal dressings, splints, and sutures are removed at about seven days after surgery. At this point, any residual bruising can be effectively camouflaged with makeup. Most patients feel comfortable appearing in public at about 7-10 days post-surgery.
Swelling will continue to subside and the nose may continue to improve in definition for up to a year after surgery. However, beyond the first week, these changes are subtle and typically not noticed by others. Many patients are pleasantly surprised at how quickly they recover from rhinoplasty. 
4. The Combination Approach
Achieving facial balance sometimes means making adjustments to the chin at the same time as the nose. Dr. Miller's expertise with both procedures produces superior results.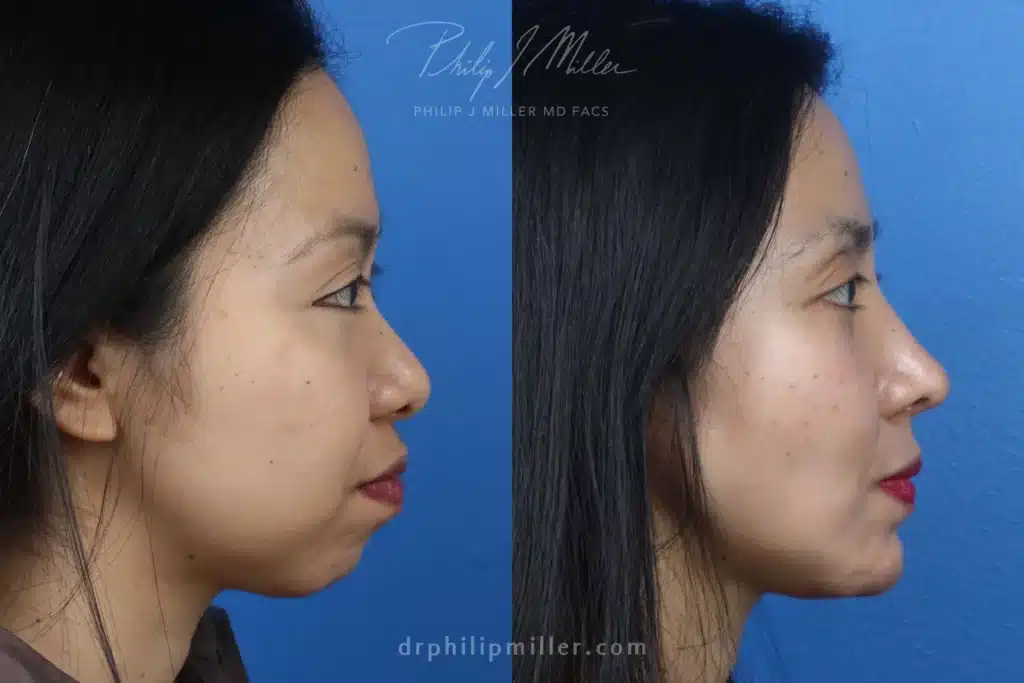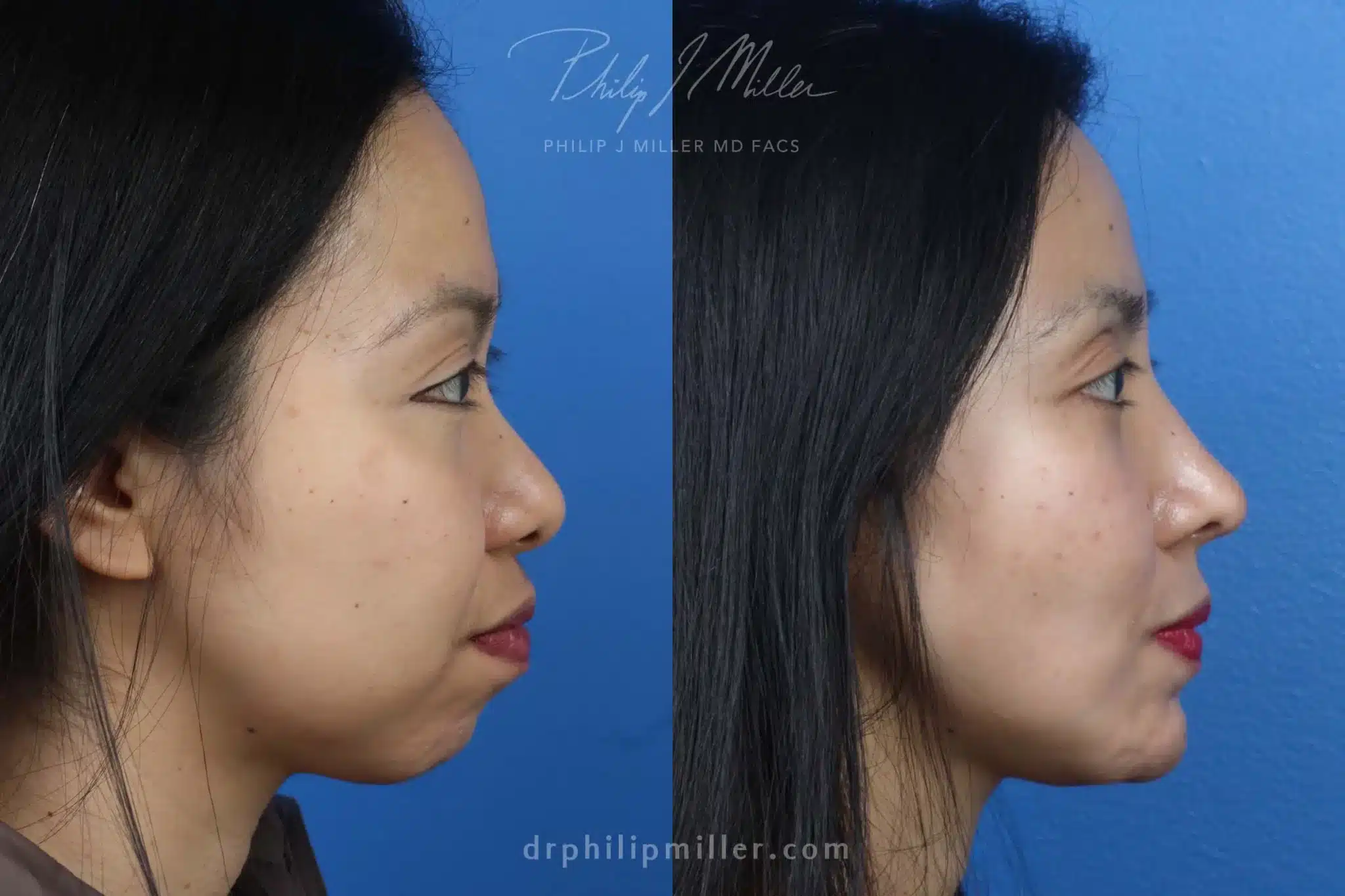 When rhinoplasty surgery is performed to improve the overall shape and appearance of a nose, a receding chin could diminish the aesthetic effect of the face, making it look unbalanced. 
To achieve the best possible results with rhinoplasty, the proportions of the entire face must be considered. If your chin is well defined and proportionate to your new nose, your overall appearance will be aesthetically enhanced by rhinoplasty alone.
If you have a receding chin, however, chin augmentation surgery performed along with rhinoplasty surgery can give your face balance that rhinoplasty alone could not have achieved. Therefore, many board-certified plastic surgeons are beginning to suggest chin augmentation with rhinoplasty for certain patients.
Recovery after a chin implant takes around two weeks. You may experience swelling, tenderness, and bruising in the chin area immediately after the procedure, but most of these symptoms will diminish within about a week. Eating soft foods during the first week after surgery will help to make your recovery period more comfortable.
5. Image Morphing 
The ability to "see" your results before surgery is a benefit that more patients are wanting from their rhinoplasty surgeon. At his Manhattan office, Dr. Miller uses computer imaging to help patients visualize their new nose before undergoing surgery. Besides helping communicate the goals of the patient to the surgeon before the procedure, image morphing also helps ensure patient expectations are in line with results.
If you have difficulty visualizing what your 'after' may look like, image morphing can help. While the final result may not be absolutely identical to the morphed picture, it provides a good idea of what you can expect.
The NatraLook Process
Aesthetic Confidence is the sense of empowerment we feel about the way we look, dress, design, and decorate. It dovetails with confidence in our abilities, intellect, and emotions. The NatraLook Process focuses exclusively on the look component of Aesthetic Confidence. The NatraLook Process is an enriching experience through which you explore and ultimately boost your aesthetic confidence by enhancing your appearance.
The NatraLook process evaluates and expands the typical plastic surgery experience into a safe, non-intimidating opportunity to explore your aesthetic confidence. It creates a unified vision of your desired result so that you and New York surgeon Dr. Philip Miller know what to expect. 
Contact an Expert Plastic Surgeon to Learn More About Rhinoplasty in New York City
Whichever procedure you ultimately choose, Dr. Miller can help you achieve your goals. His approach combines art and science with skill and innovation, providing patients in Manhattan, New York, aesthetically pleasing, natural results that are always in style.
To learn more about rhinoplasty surgery and non-surgical nose jobs, contact us online or call our practice in New York. One of our patient advisers will be happy to help you.
You thought you knew everything about facial plastic surgery and cutting-edge aesthetic procedures. And maybe you do! But if you don't, the following are a few of the lesser-known surgical aesthetic enhancements that I perform for women and men who want to boost their physical appearance as well as their self-confidence. As a double-board certified facial plastic surgeon in New York City who also trained as an artist, my goal is to make you look like the very best version of yourself and increase your Aesthetic Confidence®:
Buccal fat removal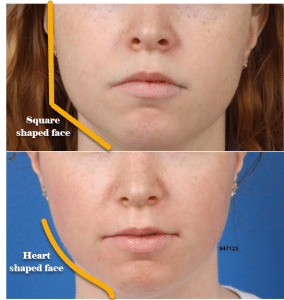 Your "chipmunk cheeks" were adorable when you were five, but now you want a sophisticated, sleek look that matches your personality and your level of achievement. By removing excess buccal (i.e. cheek) fat and tissue, I create a slender lower face that emphasizes and dramatizes your cheekbones. 
The entire outpatient buccal fat removal surgery only takes about an hour and can be done under general or local anesthesia. During this procedure, I make a small incision inside both cheeks, so you won't have a visible scar. With care and precision, I sculpt away excess fat to create cheeks that are lean and beautifully contoured.
The incisions are then closed with dissolvable sutures. You can return to work or regular activities as soon as the next day. To learn more about buccal fat removal, visit ncbi.nlm.nih.gov
Learn more about getting the sculpted cheekbones you desire with our buccal fat guide.
G.I Jaw®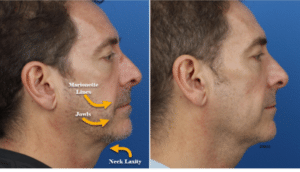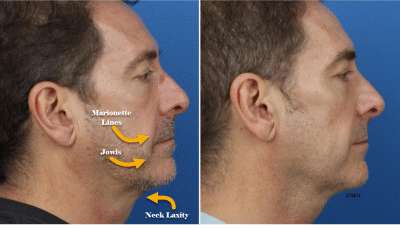 If you're a man, you may envy men like Brad Pitt or even action figures — like G.I. Joe who I named this procedure after — who have that classically sculpted strong jawline. A square, chiseled, defined jaw conveys strength, dominance, and success. While you may not have been born with the bone structure that exudes the kind of confidence you want to present to the world, a G.I. Jaw procedure helps you look as masculine and attractive as you want to be. 
Looking to achieve a strong jawline through a cosmetic procedure has become so popular that according to the American Academy of Facial Plastic and Reconstructive Surgery, general plastic surgeries are on the rise. But my patented G.I. Jaw procedure is more than simply inserting a medical-grade jaw implant or building the jaw non-surgically with long-lasting dermal fillers. I may also recommend other changes to create a more masculine appearance, which keeps your new jawline in harmony with your other features. Recommendations may include:
My aim is to create improvements that convey more strength and masculinity, while still looking natural and like yourself.
Inserting medical-grade implants is a minimally invasive procedure that can be done in the office under local anesthesia. You may experience some swelling or discomfort afterward. Generally, most men don't have discomfort following a nonsurgical G.I. Jaw procedure performed with dermal fillers.
Learn more on how to transform and strengthen your face with our G.I. Jaw guide.
Micro-Rhinoplasty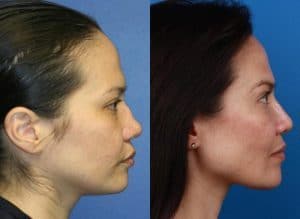 Do you want to improve the shape of your nose, but the idea of undergoing a full rhinoplasty — which requires breaking the nasal bone and cartilage and a healing period of up to one year — just doesn't appeal to you? If you only want to remove bumps and lumps on your nose, I can perform a micro-rhinoplasty that requires just one tiny incision in your nostril, no bone breakage, and no significant downtime.
Using specialized tools, I insert a high-tech, air-powered micro-rasp into the incision and gently reshape your nasal bone and cartilage, sculpting away humps and bumps. The end result is a nose that's straighter, more aesthetically pleasing, and in better harmony with the rest of your facial features.
Unlike traditional rhinoplasty, which is performed under general anesthesia and may take several hours, micro-rhinoplasty is done in my Manhattan office under local anesthesia. The entire procedure only takes about  5-15 minutes. 
Your recovery time is also cut down. You're swollen for a few days after your procedure but can return to most of your normal (non-strenuous) activities within 1-2 days.
Learn more about micro-rhinoplasty with our procedure guide.
Book a Facial Plastic Surgery Consultation in New York Today
When it comes to cosmetic surgery, your satisfaction with your results can have emotional and psychological benefits. It makes sense. When you look good, you feel good.  If you're ready to get your Aesthetic Confidence® back, contact Dr. Miller and his staff at his New York office today to schedule a plastic surgery consultation. 
More like this,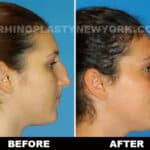 Is Micro-Rhinoplasty Right for You?