Spreader grafts are a common technique used in rhinoplasty and rhinoplasty revision. They are grafts of cartilage placed between the upper lateral cartilages and the septum to widen the middle third of the nose. These grafts assist with vestibular stenosis and help prevent depressions and concavity in the middle third of the nose.
Dr. Philip Miller is a double board-certified facial plastic surgeon in facial plastic and reconstructive surgery and head and neck surgery located in the heart of Manhattan. Dr. Miller specializes in cosmetic facial procedures and is a leading expert in rhinoplasty and facial rejuvenation. Dr. Miller and his highly acclaimed team offer customized treatments in New York City, NY, and New Orleans, LA.
Do I need a spreader graft?
A spreader graft may be useful during a variety of rhinoplasty procedures, including the following:
When a hump is removed, a spreader graft is used to strengthen and support the middle third of the nose. The hump contains delicate connections of cartilage and bone, so removing it increases the risk of the nose falling inward. Spreader grafts prevent a concave nose by adding structural support.
If there is a bend in the middle of the nose, it can be corrected with a spreader graft. In this case, the graft addresses the asymmetry of the nose and may improve the airway passages for easier breathing.
Nose trauma or a previously failed surgery can lead to depression in the middle third of the nose. A spreader graft can provide adequate support to the nose and rebuild the dorsum.
Patients that have medical issues and require better airflow can use a spreader graft to improve the internal nasal valve, the narrowest part of the nasal airway.
What is spreader graft in rhinoplasty?
During a rhinoplasty or rhinoplasty revision, a spreader graft is used to correct a specific problem. It is typically used to fix functional issues, like breathing, in the middle section of the nose between the nasal tip and below the nasal bone. In rhinoplasty, a spread graft is used to add support to the nose after a hump reduction or open the internal nasal valve for better breathing.
While the practical uses are ideal for breathing improvements, a spreader graft can also help solve cosmetic issues. A spreader graft can correct a twisted nose by only placing the graft on one side of the nose to straighten it. They can also be used in rhinoplasty revision to keep the septum straight. In some cases, they restore support that might have been lost after the initial rhinoplasty procedure.
Benefits of a Spreader Graft
A spreader graft offers many benefits, including:
Permanent solution for functional and cosmetic problems
Improves airway passage
Provides structural support for long-lasting rhinoplasty results
Balanced nose shape that is harmonious with other facial features
Prevent future problems and revision surgeries
About the Procedure
A spreader graft can be placed during an open or closed rhinoplasty procedure. The best option is during an open rhinoplasty so that surgeons have a clear view of the treatment area for accurate placement. The actual graft is made from the patient's cartilage, usually from the septum or ear, if the septum cartilage is minimal.
The spreader graft is usually placed on both sides of the septum to widen the internal nasal valve. The graft is sewn into place with sutures, and then the upper lateral cartilage is put back into place for the middle vault reconstruction. It is an extensive surgical procedure that requires anesthesia and adequate recovery time.
Like any rhinoplasty procedure, performing a spreader graft requires extensive recovery before final results are evident. The graft placement itself is vast and can take up to 3 hours depending on if it is a combination procedure. Any incisions are minor and heal quickly with minimal scarring. Many patients have bruising and swelling for several weeks after the surgery and can expect most of the swelling to subside within a month or two. However, it can take up to a full year before swelling is gone entirely.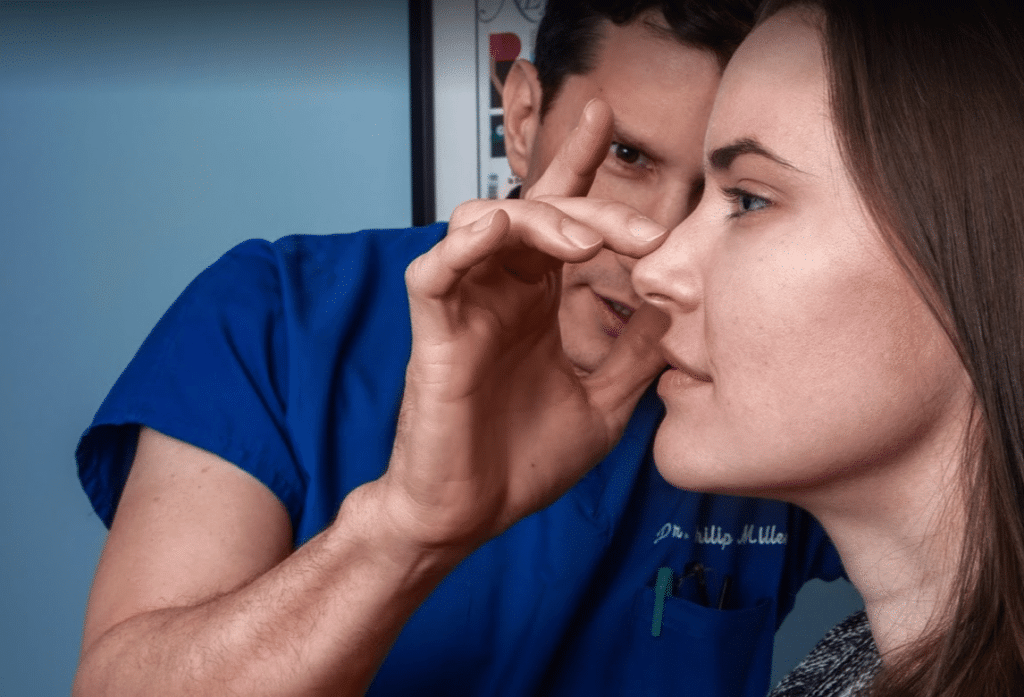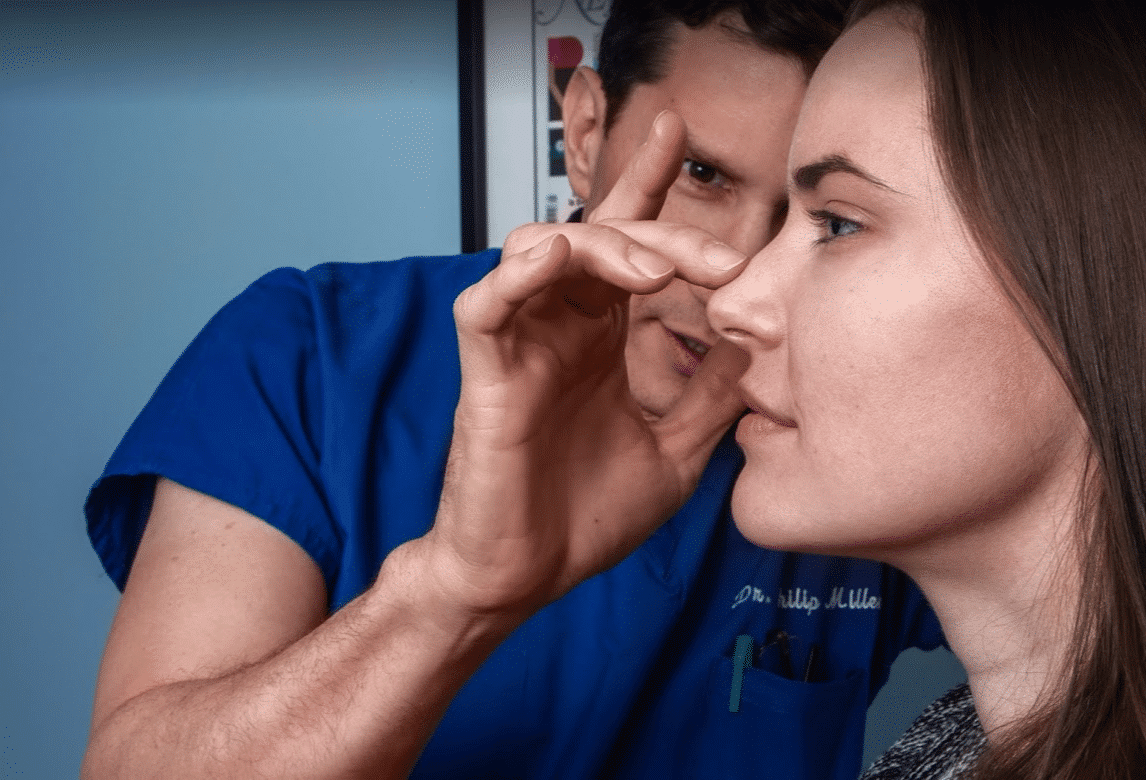 Spreader grafts before and after
In some cases, a spreader graft does not add any cosmetic value to the nose and does not produce visible outward changes. When used to improve nose function, the changes are only internal and will be apparent to the patient with better breathing.
When spreader grafts are used to add support and change the shape of a nose, there are noticeable outward changes after surgery. A spreader graft can result in dramatic changes when a nose is collapsed or twisted.
Spreader grafts in Manhattan, NYC
Dr. Miller is a top plastic surgeon in New York City and New Orleans with more than 20 years of experience and thousands of successful surgeries. Dr. Miller and his team strive to create stunning and natural results with NatraLook®. The NatraLook process expands the typical plastic surgery experience into a safe opportunity to explore aesthetic confidence. Patients work closely with Dr. Miller to create a unified vision and work through obstacles to achieve natural results.
Contact us to schedule a consultation and determine if spreader grafts are right for you.
Dr. Miller never uses a "cookie-cutter" or one-size-fits-all approach to nose surgery. Because every patient is unique in their facial features, your consultation will determine which surgical approach is best for your particular circumstances. Double board-certified facial plastic surgeon Philip J. Miller, MD, FACS, performs both closed rhinoplasty (endonasal) or open rhinoplasty depending on the specific needs of each patient.
Dr. Miller offers patients in Manhattan, New York, and New Orleans, Louisiana, expert rhinoplasty techniques, with the goal of bringing balance to your facial features and achieving beautiful, natural-looking results.
What is endonasal rhinoplasty?
Also called a closed rhinoplasty, endonasal rhinoplasty is an internal procedure in which all incisions are confined to inside the nostrils. The nose is not opened fully, and the nasal structure is not exposed. The work is done entirely through narrow openings in each nostril. Patients concerned about visible scarring need not worry with a closed rhinoplasty. During the procedure, Dr. Miller carefully lifts the underlying bone, cartilage, and tissue through the nostrils, so you won't be able to see any scarring.
Open vs. Closed Rhinoplasty
While both open and close rhinoplasty procedures can achieve exceptional results, each has its own advantages and drawbacks to consider during your consultation.
During an open rhinoplasty, Dr. Miller makes a small incision in the columella – the piece of tissue that separates the nostrils at the base of the nose. Also called external rhinoplasty, this technique opens the tip of the nose to reveal the internal structure. Dr. Miller can reshape the nose and repair damage while keeping structural support intact. An open rhinoplasty provides improved precision, enhanced visibility, and enhanced structural support. However, there can be minor scarring under the base of the nose. An open rhinoplasty may also require a slightly longer recovery process compared to a closed technique.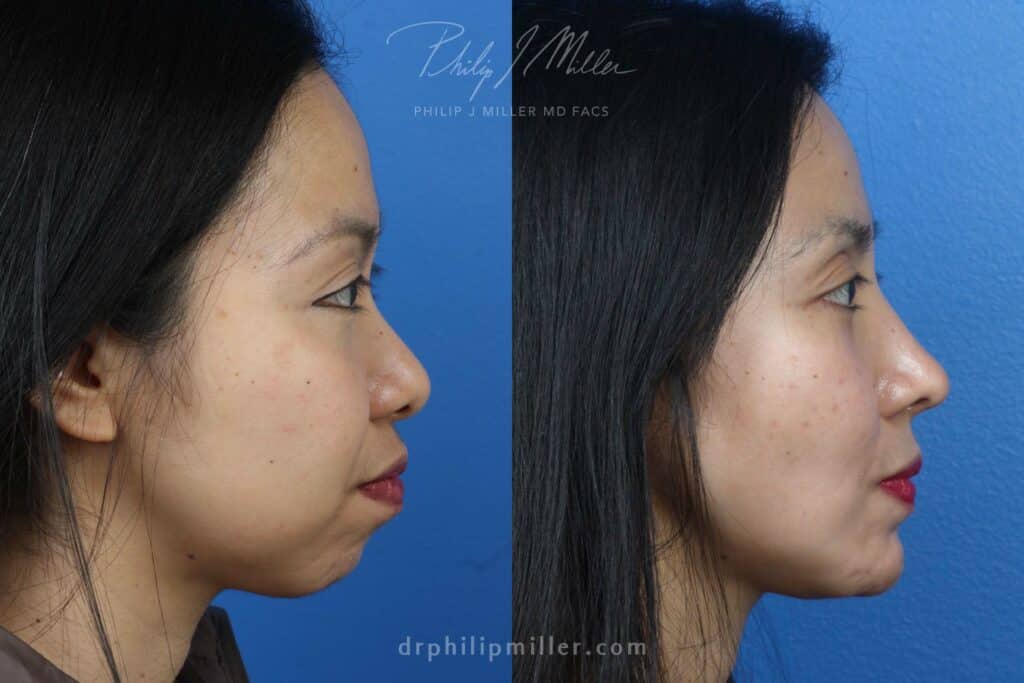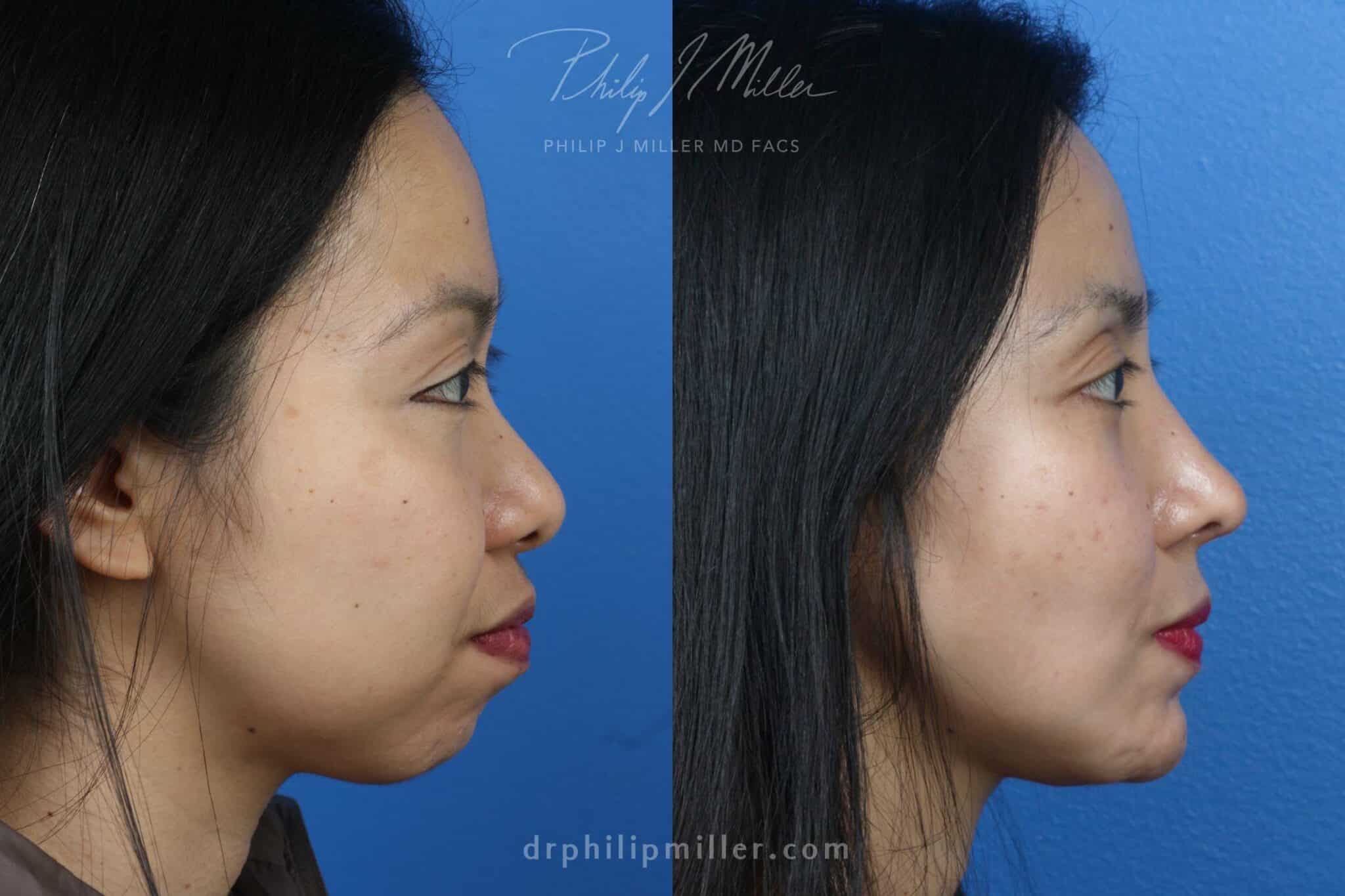 Dr. Miller typically recommends open rhinoplasties for patients with complex structural concerns, such as a severely crooked nose, nasal trauma or deformities, an asymmetrical tip, a large nasal tip, or a large dorsal hump (bump on the nasal bridge). For these patients, the possibility of a nearly imperceptible scar is a good trade-off for the most natural nose reshaping possible.
A closed rhinoplasty is especially appealing for those who want to make minor modifications to their nose. Dr. Miller might also recommend this approach if you have breathing problems, such as chronic sinusitis. It is a more conservative type of rhinoplasty, which means it may not produce the more dramatic results achieved with an open rhinoplasty.
The closed technique is ideal for minor adjustments to the nasal tip and bridge. If you have a dorsal hump, wide nasal bridge, or enlarged nasal tip, endonasal rhinoplasty can deliver subtle results with little impact on the surrounding tissue.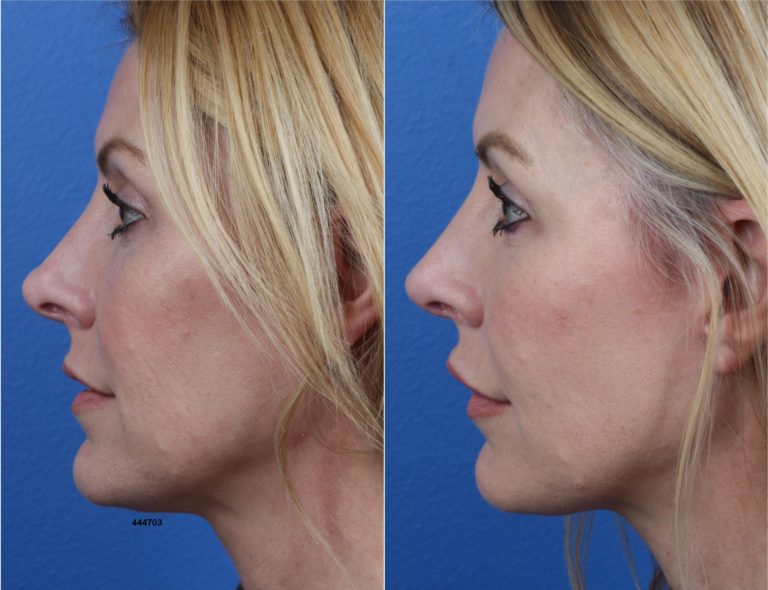 Benefits of Endonasal Rhinoplasty
Because all stitches are located inside the nose, patients will not have any visible scarring after the surgery. Recovery may also be a bit faster, with many patients returning to work and other activities within one week rather than the two weeks usually allotted for open rhinoplasty recovery. Other benefits include:
Decreased operative times
Profile adjustments are easier to judge because the structural support remains undisturbed
Reduced postoperative edema
Quicker return to a normal appearance
How is Endonasal Rhinoplasty Performed?
You can undergo endonasal rhinoplasty using local anesthesia with sedation or general anesthesia. To begin, Dr. Miller will make incisions inside the nostrils to separate the skin from the cartilage. Dr. Miller can then begin the process of reshaping the cartilage or shaving off or adding bone (bone graft) through the narrow openings in each nostril. Once the shaping is complete, absorbable stitches will close any incisions. You will have a cast or nose splint after surgery to protect the nose and maintain the new shape. The procedure typically takes 1-2 hours to complete.
Recovery After Endonasal Rhinoplasty Surgery
You will need to arrange for someone to drive you home after your surgery. The cast or splint helps support the nose as it heals for the first week. You can expect to take a few days off from work so you can comfortably recover at home. It is best to keep your head elevated to help reduce any swelling. To ensure faster healing, avoid the following:
Strenuous exercise/activity
Blowing your nose
Swimming
Sleeping facedown
Excessive chewing
Drinking alcohol
Smoking
Wearing eyeglasses
Pulling tight clothing over your head
We will remove your cast or splint after one week. You can usually return to work and normal activities within 1-3 weeks, but you should refrain from strenuous physical activity for 3-6 weeks. You will begin to see the swelling and bruising subside within 2-3 weeks, at which time you will start to appreciate the results.
Full results usually take 6-12 weeks to be seen, while your healing will continue for the entire first year. Dr. Miller and his team will follow you through this entire process.
Scarring After Closed Rhinoplasty
The primary benefit of a closed rhinoplasty is that there's no external evidence of the procedure. All stitches are located inside the nose, so you may feel more comfortable resuming your normal activities sooner than you might after an open rhinoplasty.
Is Endonasal Rhinoplasty Right For You? Ask the Expert
Open and closed rhinoplasty surgery are different surgical approaches, but one is not superior to the other. To determine the best procedure for you and ensure the best possible results, Dr. Miller offers a proprietary consultation process called NatraLook®. During your NatraLook consultation, he evaluates your nose and facial features while listening to your concerns and goals. This process evaluates and expands the typical plastic surgery experience into a safe, collaborative environment where you can explore your aesthetic confidence. This opportunity allows you and Dr. Miller to create a unified vision for your results and the most natural outcome possible.
To learn more about the different types of rhinoplasty procedures Dr. Miller performs and to find out which technique is best for you, contact our New York City plastic surgery clinic today.