Social media is a very visual medium –it's a virtual place to see and be seen. Therefore, it's no surprise how daily postings can somehow fuel our vanity or our quest for having the perfect selfie. Did you know that selfies can make your nose look about 30% larger? It's because of how the camera on the phone distorts objects up close. Due to this, some people are convinced that no photo-editing app is good enough to make themselves and their noses look flawless and that undergoing plastic surgery is the only key to achieving social media-approved beauty. This has led to a meteoric rise in the popularity of rhinoplasty, also known as a "nose job." 
Despite the apparent popularity of rhinoplasties, you should have a keen awareness that not just any surgeon is right for the job. One of the most crucial steps in guaranteeing a satisfactory nose procedure outcome is choosing the right surgeon. Rhinoplasty is one of the most challenging cosmetic procedures to perform, so you should only trust a surgeon with rhinoplasty expertise, experience, and skill. A great surgeon is also a good listener, a compassionate and patient caregiver, and an effective communicator.
For patients in New York City who seek a nose job with reasonable expectations and their desire comes from a "healthy place"—perhaps, to improve self-esteem or to correct a functional issue – facial plastic surgeon Dr. Philip Miller will combine his expertise and skill with his artistic eye to produce impeccable results that are life-changing.
Surgical And Non-Surgical Rhinoplasty Options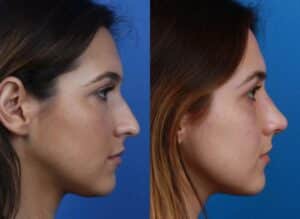 Your nose is one of the most prominent features of the face as it brings balance to your facial profile.  That's why it's often the first thing people notice on your face. If you feel that your nose detracts from your whole face, diminishing the beauty of your eyes or other facial features, and more importantly, if you have trouble breathing, you may be a candidate for a rhinoplasty.
Voted among the Best Doctors in America and Top Doctor of New York since 2007, Dr. Miller has lectured on cutting edge rhinoplasty techniques, including his innovative NatraNose procedure,  and even written chapters for rhinoplasty and neck rejuvenation textbooks. He can provide custom cosmetic treatment plans that include a combination of advanced procedures and minimally-invasive techniques to help you achieve your desired results.
Which Nasal Procedure Is Right For You?
Nose shaping was the third most popular cosmetic surgical procedure performed in 2018 according to the American Society of Plastic Surgeons report, so it is important to know the facts of what rhinoplasty means and the process behind the types of procedures. Each procedure will have its own set of advantages. While a non-surgical nose job will involve no pain, no recovery time, no scarring, and will cost less than a traditional rhinoplasty, it cannot address all nasal issues. A non-surgical rhinoplasty utilizes injectables, and injectables can only be used for augmentation and not a reduction. For larger cosmetic nose concerns, surgical rhinoplasty is still the best long-term solution. 
As a leading rhinoplasty surgeon who has devoted most of his career to the human nose, Dr. Miller can help recommend the best approach to achieve your aesthetic goals. He can even use virtual rhinoplasty to help you visualize nose job results from the comfort of his office. Virtual Rhinoplasty uses the latest in technology and computer imaging to provide patients with the ability to see what the results will look like even before undergoing any procedure. This gives you the opportunity to explore how different changes to your nose will impact the final results.
One major benefit of this technology is that it provides a visual tool for communication between surgeon and patient. This will help Dr. Miller understand your nose job goals as well as make the necessary recommendations that will ensure that both of you are on the same page before any procedure begins.
Rhinoplasty
A rhinoplasty can change the shape of your entire nose or just a small portion of it with the goal of making it fit more harmoniously with the rest of the face. These are the specific changes often requested during a nose job:
Improve the crooked appearance of the nose to achieve symmetry

Remove a bump or hump in the nose

Increase the size of the nose

Narrow or refine the nasal tip

Alter the tip projection
The 1 ½ – 2 ½ hour procedure may be done either under general anesthesia or under sedation. Most incisions are made inside the nostrils, or a small one made along the natural creases found on the sides or near the base of the nose.
Skin is then lifted from the underlying cartilage and bone, and the nose is recontoured and reconstructed. The incisions heal quickly and leave scars that are nearly invisible. Dr. Miller also offers variations of his nose surgery procedures depending on your age, gender, ethnicity, and desired goals. Examples are Teen Rhinoplasty, Male Rhinoplasty, MicroRhinoplasty, Ethnic Rhinoplasty, and Revision Rhinoplasty.
Non-Surgical Rhinoplasty
Not everyone will need surgical rhinoplasty. As one of New York City's top rhinoplasty surgeons, Dr. Miller understands that not every patient who desires to alter their nose will need invasive surgery to achieve dramatic results. For patients like these, or for those not ready for surgery and would like something temporary, Dr. Miller has developed a specialized area of practice that will give you the transformation you want using non-surgical methods.
Also referred to as a liquid rhinoplasty, a non-surgical nose job allows surgeons to alter the nose's shape, size, the position of the nasal tip, or to hide bumps. It is a quick, pain-free alternative to invasive surgeries for correcting undesirable noise characteristics.
Hyaluronic acid fillers such as Restylane, Perlane, and Juvéderm are the preferred injectables for a liquid rhinoplasty. They are the easiest to mold and shape, and can be removed within 24 hours should you wish to have the results reversed. Radiesse may also be used under certain circumstances. When injected, these fillers will smooth and contour the existing nasal structure, helping you achieve a nose that creates facial balance and harmony. Results can last up to a year before the procedure needs to be repeated to maintain optimal results.
Consult With A Rhinoplasty Expert In New York
Double board-certified in Facial Plastic and Reconstructive Surgery as well as Otolaryngology/Head & Neck Surgery, Dr. Philip Miller is one of the country's leading experts in rhinoplasty and facial rejuvenation. As a renowned facial plastic surgeon who trained as an ear, nose, and throat specialist, Dr. Miller has extensive experience dealing with the nose. For more than two decades in Manhattan, he has dedicated his career to providing patients with customized surgical and non-surgical facial procedures. To learn more, contact Dr. Miller today.
In addition to adorable puppy ears, floral headpieces, and new pairs of sunglasses to try on, Snapchat also offers face-perfecting filters that instantly smooth out your skin and give you bigger eyes, a smaller nose, and a thinner face. While it may seem all fun and games at first, teenagers can become obsessed with their filtered selfies and may go to great, social media-approved lengths to be able to "Facetune" their faces in real life, with the help of a cosmetic surgeon. Those who choose to undergo plastic surgery in New York City to look like their pixel-perfect selfies may be suffering from an underlying mental health condition called Snapchat Dysmorphia.
What Is Snapchat Dysmorphia?
Social media platforms like Snapchat and Instagram and photo-editing apps like Facetune are contributing to a dangerous trend where people are feeling insecure about not looking as beautiful and flawless as their own filtered selves that have garnered ego-boosting hearts and "likes" from their followers.  
Dubbed as "Snapchat Dysmorphia" by a group of dermatologists at Boston University, this new phenomenon has patients seeking out cosmetic surgeries in an attempt to look identical with the filtered versions of themselves –with a thinner nose, bigger eyes, and fuller lips. The paper which was published in the JAMA Facial Plastic Surgery Viewpoint also mentions how Snapchat Dysmorphia is a new twist on the condition known as Body Dysmorphic Disorder in which people have an excessive preoccupation with their perceived flaws. What is happening right now is a significant rise in "selfie" surgery requests and instead of patients bringing in photos of celebrities who possess their ideal nose or face shape, they are now presenting highly-edited selfies fit for an airbrushed cover of a glossy magazine. "This is an alarming trend because those filtered selfies often present an unattainable look and are blurring the line of reality and fantasy for these patients," the paper read. 
Social media, it seems, is shaping our concept of beauty and is putting the spotlight on our flaws as we attempt to achieve physical perfection offline. No matter how advanced and innovative the techniques in plastic surgery are today, attempting to measure up to your altered images can be unrealistic, unattainable, and unhealthy. This is why it is important that you consult with a double-board certified facial plastic surgeon like Dr. Philip Miller. Dr. Miller and his team can help you achieve healthy aesthetic changes that can highlight your natural, unfiltered beauty. 
No Filter Needed
Dr. Miller and his New York team can help you healthily achieve your aesthetic goals. His expertise ensures you will have a natural and refreshed look, not just what you see in altered and heavily filter pictures. 
 Dr. Miller has a variety of options, from surgical procedures such as rhinoplasty, neck lift, chin implant, jawline augmentation, and otoplasty, to non-surgical options that can be done over a lunch break.
Non-Surgical Treatment Options
Some of the best available treatments today don't even need a scalpel and can be done in a lunch hour with minimal downtime. And what is brilliant about these non-surgical procedures is that you will still look like yourself –just fresher, younger, and more radiant with glowing skin, a sharper nose, and a taut jawline. These are the non-surgical face and skin-transforming treatments that can be performed by Dr. Miller:
Non-Surgical Rhinoplasty 
Also referred to as a liquid rhinoplasty, a non-surgical nose job allows the surgeon to subtly alter the nose's size, shape, position of the nasal tip, as well as straighten the nose and hide bumps through the use of injectable fillers. 
A non-surgical nose job is a pain-free alternative to surgical procedures for correcting undesirable nasal characteristics. And since injectable fillers are used, the results are immediate. In addition, if you are unsatisfied with the results, the fillers can be dissolved within 24 hours. Non-surgical rhinoplasty has no long-term effects, making you a potential candidate for a traditional rhinoplasty in the future should you still desire to undergo the procedure.
Dr. Miller is considered one of the country's leading experts in rhinoplasty and facial rejuvenation and has even lectured on innovative rhinoplasty techniques as well as written chapters for rhinoplasty textbooks. 
Botox 
Those who want to look more youthful by smoothing their fine lines and wrinkles are good candidates for Botox injections. FDA-approved to treat crow's feet and frown lines, Botox works by blocking nerve impulses to the facial muscles, causing dynamic wrinkles to soften and relax. Skin will appear smoother and less wrinkled, giving you a refreshed and rejuvenated appearance.
Dermal Fillers 
With over 20 years of experience, Dr. Miller is recognized as an expert in facial rejuvenation procedures, including filler injections. Dermal fillers are made from hyaluronic acid (HA) which is a natural substance within the skin that's responsible for keeping the skin supple and hydrated while adding volume. We lose HA as we age, resulting in skin's lack of moisture, strength, and volume. When injected into the skin (cheeks, around the eyes and mouth area, chin, or lips), fillers will replace lost volume to plump and contour the face. Examples of dermal fillers include Juvéderm and its products (Voluma, Ultra, Ultra Plus, and Volbella), Restylane, and Radiesse (calcium hydroxylapatite).
Dermal fillers combined with Botox can work wonders in rejuvenating the face. They create a powerful anti-aging treatment that gives the face a natural lift as they relax and fill in those lines, wrinkles, and hollow areas while redefining the contours of the face. 
Treatments For Skin Resurfacing and Tightening
Laser, light, and energy devices can help address signs of aging such as fine lines and wrinkles, blemishes, and pigmentation through short and direct pulsating beams of light that create heat points or micro-injuries in various depths of the skin, triggering the skin's natural healing process. Skin becomes smoother, tighter, and clearer, with improved tone and texture. Examples of treatments include:
CO2 Resurfacing Laser Treatment

– creates microscopic treatment areas where shafts of intense light penetrate into the deeper layers of the skin. During the healing process, old, damaged skin is replaced with new skin that is smoother, tighter, and more radiant. The laser effectively treats acne scars, blotchy skin, deeper wrinkles, and scars from surgery or trauma. 

Ultherapy

– Dr. Miller is among the first in New York City to offer the Ultherapy treatment for toning and lifting loose, lax skin without any downtime. It uses safe ultrasound energy to trigger collagen production, resulting in tighter skin and a more youthful, contoured appearance on the brow, chin, and neck. 

Fractora & Fractora Firm

– Fractora utilizes fractional radiofrequency technology to resurface the skin, effectively correcting common skin concerns such as fine lines and deep wrinkles, redness, brown spots, visible blood vessels, and poor skin texture. On the other hand, Fractora Firm is an advanced skin rejuvenation treatment that uses thermal energy to deeply heat beneath the skin, stimulating collagen formation which results in tighter, more youthful, and glowing skin.
Choosing the Right Surgeon
Focusing exclusively on the face for more than two decades in New York City, double board-certified facial plastic surgeon Dr. Philip Miller seamlessly blends art and science with skill and innovation to provide his thousands of patients with impeccable results. With his compassionate and empathetic approach to treating patients, he will work with you to highlight your best attributes instead of focusing on your flaws. And with the many non-surgical procedures he can perform, transformation need not be drastic. Enhancing your features could mean subtle yet beautiful, natural-looking results that will help you achieve the best version of yourself.
Consult With New York's Facial Plastic Surgery Specialist
Dr. Philip Miller and his team of top-rated facial plastic surgery experts can provide you with a custom cosmetic treatment plan consisting of a combination of advanced, non-surgical procedures that will help you achieve the Aesthetic Confidence you desire. To learn more, contact Dr. Miller today.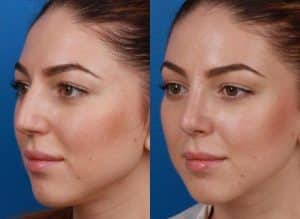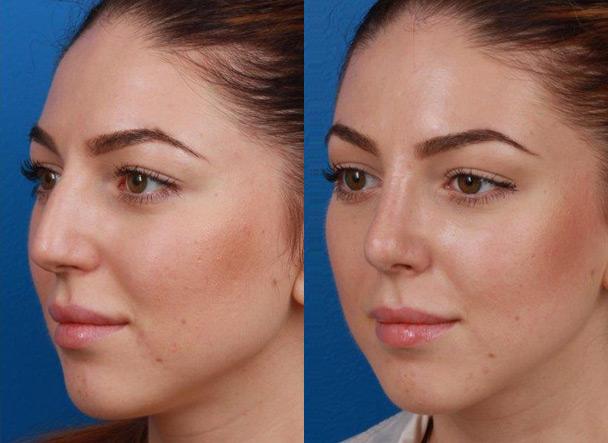 A rhinoplasty, more commonly known as a nose job in New York, is treated by most people as a simple act of shopping –that is, purchasing a new nose. I know it sounds easy and straightforward.  It begins by you wanting to correct an issue with your nose. So, you browse through social media and "shop" for the celebrity nose you like, then set an appointment with your surgeon. 
Simple, right? Not really. Whenever you plan on undergoing invasive cosmetic changes, there is one crucial factor that must be addressed: your EXPECTATIONS for your surgery. In this blog, I share some of my tips for managing your expectations about getting a nose job and one crucial element for getting the nose you will love.
Only Use Celebrity Noses As Inspiration 
During a rhinoplasty consultation, I ask my patients to thoroughly discuss their desired results. This way, we can share a Unified Vision. A Unified Vision incorporates the patient's aesthetic goals along with what I deem is surgically feasible with their given anatomy. Often times when we find certain individuals attractive, we naturally go about wanting to emulate their facial features. Celebrities under the spotlight often have variants of a slim, dainty nose that is turned-up, a.k.a. the celestial or "button nose." My patients often bring in photos of celebrities; Jennifer Lopez, Kim Kardashian-West, Scarlett Johansson, Angelina Jolie, and Meghan Markle are amongst the most popular. Patients like to come prepared and bring in these photos as a point of reference for how they'd like their noses to turn out. I prefer my patients to bring in these photos because I use them as an effective communication tool to determine what the patient desires, as well as to see how realistic their expectations are.
The Goal of Rhinoplasty
I explain to my patients that the goal of a rhinoplasty procedure is to reshape the nose to create an overall improvement to the facial structure and aesthetic. In other words, a nose job can help you improve the balance of your facial features which ultimately will increase your self-confidence. But don't expect that someone else's nose will look right for your face. It should not be your goal to match somebody else's appearance, but only take them as a source of inspiration. Everybody is unique in their facial features and therefore, should also be treated as such. I help my patients create a natural-looking nose that will complement their features and honor their ethnicity, rather than give them a "cookie-cutter nose" from a celebrity. To learn more about rhinoplasty, visit medlineplus.gov
Managing Realistic Expectations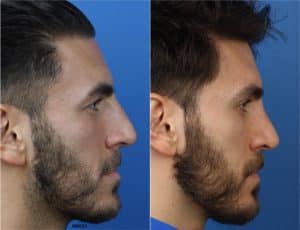 There is no such thing as a perfect nose because "perfect" has a fluid and subjective definition. It will depend on the patient's facial structure, size, and balance. Facial plastic surgeons can produce amazing results through modern rhinoplasty techniques, but there are always limitations. Going back to having a celebrity nose –if you specifically want to have a Meghan Markle nose, you'd probably end up having to alter your entire facial structure instead of just your nose. It is very important to have an open mind during your consultation so you can listen to your surgeon's recommendations on what the "perfect" nose is for YOU. By understanding the procedure and having a more thoughtful and practical approach to your results, you will be giving yourself a better chance of having complete satisfaction with your rhinoplasty outcome. 
Consult With A Recognized Expert In Facial Plastic Surgery
Your realistic expectations for your nose job will serve as the foundation for your cosmetic surgery. And as the surgeon, I will become the foundation of its success. Rhinoplasty is a complex surgical procedure that requires experience, expert knowledge, and top-notch skills. To set yourself up for a successful journey, begin by choosing the best facial plastic surgeon. You can review the criteria here.  
I am double board-certified in Facial Plastic and Reconstructive Surgery, as well as Otolaryngology/Head and Neck Surgery, and am considered one of the country's leading experts in facial rejuvenation and rhinoplasty. I have lectured on innovative rhinoplasty techniques at the 10th International Symposium of Facial Plastic Surgery, and consistently since 2007, have been voted among the "Best Doctors in America" and "Top Doctor of New York." It is my goal to help my patients find a look that makes them feel beautiful and confident. I combine my expertise, experience, skill, and artistic eye to deliver those life-changing results.
Are You Interested in a Rhinoplasty Consultation?
If you are interested in undergoing rhinoplasty, always remember to only trust your face to a world-class board-certified facial plastic surgeon, and be sure to communicate your expectations to achieve the most realistic outcome. To schedule a consultation with Dr. Miller, contact his office located at 60 East 56th Street, Third Floor in New York City, by calling (646) 791-3025